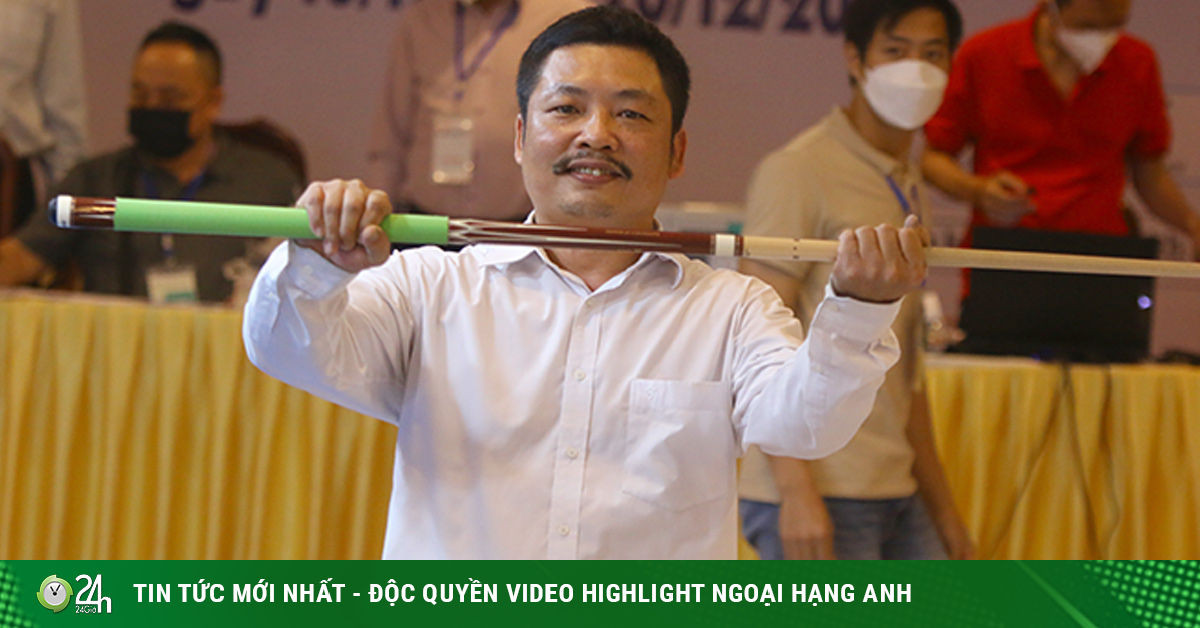 (Sports news, billiard news) With the support of his family and especially his wife, player Pham Quoc Tuan excellently won the 2021 national 1-ice carom championship with a prestigious ticket to the SEA Games 31 next year.

Quoc Tuan's 30-point line in the national final 2021 (Source: HBSF Billiards TV)
In the final of the one-piece carom content that took place on the afternoon of December 14 at the 2021 national championship held in Da Nang, player Pham Quoc Tuan (Binh Duong) excellently defeated Nguyen Tran Thanh Tu (Ho Chi Minh City). Ho Chi Minh City) to win the championship. This was a match where Quoc Tuan played overwhelmingly, in which there were two lines of 30 points and 20 points in a row to win with a score of 100-42 after 12 innings.
Quoc Tuan is so focused on each shot that he doesn't notice his opponent's score
Even before that in the semi-finals, the Binh Duong player also created a big shock when he defeated the defending champion 1 national ice, "King of billiards" Nguyen Cao Nhan Minh Quan with a difference of 100-75 .
This championship helps Quoc Tuan become one of two representatives of Vietnam to compete in the one-piece carom content at the 31st SEA Games held at home next year. The other person is Thanh Tu, the player with the highest score on the national chart in this content. Not being appreciated before the tournament, Quoc Tuan's coronation created a big shock in the Vietnamese billiards village.
The new national 1-band carom champion said he would not have been successful without the absolute support of his wife.
As soon as the final match ended, player Quoc Tuan immediately called to report the news and share his joy with his wife. The new king of national carom content revealed that without the absolute support of his wife, he would certainly not be able to have the success he is now.
"Although I have a salary at the Binh Duong Billiards team, a large part has been used to pay for the cost of renting a table for daily practice. My wife is the economic breadwinner for the family by selling clothes in the market. In addition to training or competition time, I will also help out.
I remember most more than 10 years ago when I was also participating in the national tournament in Hue, at home my eldest son fell and broke his leg but his wife did not dare to report the news, fearing that I would lose focus. It was only when I was eliminated that my wife informed me. It is also the memory of this lifetime that has made me the most serious and determined with professional billiards. At each tournament I competed, my wife always texted to encourage and cheer. I am happy because I have the support of my family," Quoc Tuan said.
Quoc Tuan said that all the money will be brought home to his wife
According to the player born in 1979, he will bring all the prize money from the championship to his wife as a gift for the absolute support that his wife has given him over the past 10 years. In addition, it is also a part of helping the family's economy in difficult situations because of the Covid-19 epidemic.
Sharing his feelings about his coronation journey, Quoc Tuan said: "Because of the contested nature of SEA Games tickets, the pressure in the final match was terrible for me. I only know how to focus on each turn, how to score 100 points first without paying attention to the opponent's score. When I finished the match, I looked back and realized that I won 100-42.
In 2017, I also won the national championship, but that year the SEA Games did not have a single-band carom, so my feelings at this coronation are difficult to describe, overjoyed. I will work hard to practice so that I can bring home the gold medal for my country's sports," added player Quoc Tuan.
Quoc Tuan will also compete in the 3-band carom content at this year's national championship. He said that in this content, there are many world-ranked players, so he will only try to do well in each match, not setting goals for himself.
Kieu Thien Khoi won the Snooker content and won the SEA Games ticket
Also on the afternoon of December 14, player Kieu Thien Khoi (HCMC) excellently defeated Pham Hoai Nguyen (Hanoi) in the final to win the national Snooker content, thereby winning tickets to the SEA Games next year. Earlier in the semi-finals, a player born in 1982 also overcame another Hanoi player, Nguyen Thanh Duong.
Player Thien Khoi won the Snooker content
Source: https://tcdulichtphcm.vn/the-thao/34vua34-carom-1-bang-quoc-tuan-tu-hao-ve-vo-dem-het-tien-thuon…Source: https://tcdulichtphcm.vn/the-thao/34vua34-carom-1-bang-quoc-tuan-tu-hao-ve-vo-dem-het-tien-thuong-tang-ba-xa-c28a21807. html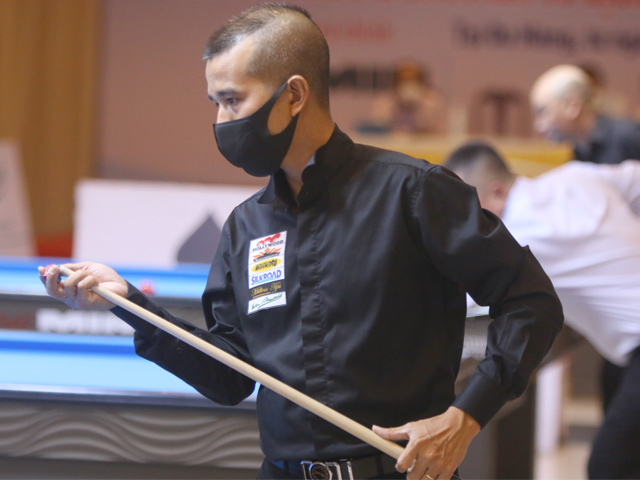 (Sports news, billiard news) Player Tran Quyet Chien shocked the Vietnamese carom billiards village with a victory upstream…
According to Le Phong (Ho Chi Minh City Tourism Magazine)
.