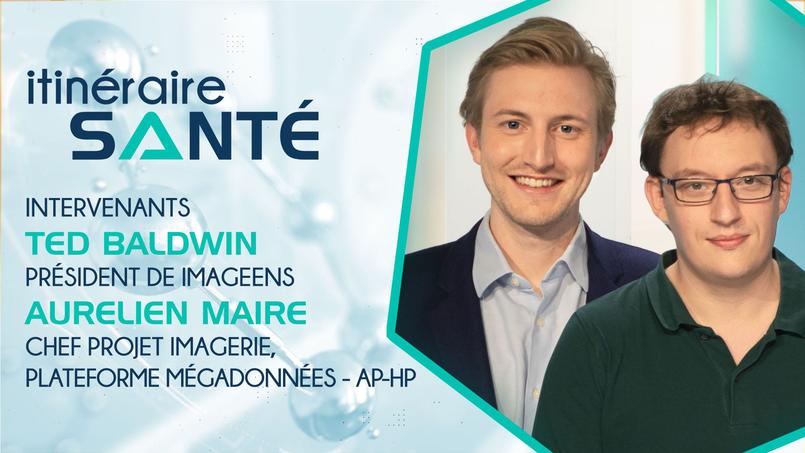 Founded in 2017, the French start-up is basically a spin-off from the Biomedical Imaging Laboratory (INSERM / Sorbonne University). Imageens, in collaboration with AP-HP (the leading hospital group in France), is developing Label software aimed at using medical imaging data stored in healthcare warehouses. A solution that could be a game-changer in the future of medical research and diagnosis.
35 million is the number of medical imaging data stored in the AP-HP servers and cloud within the AP-HP EDS project managed by the Innovation & Data (I&D) department. Today, there are many diagnoses or routine treatments that require a medical imaging device such as an MRI, CT scanner, or ultrasound. The images emanating from these examinations are anonymized and placed in health data warehouses (DHS) for activities of public interest such as scientific research, innovation, or the management of hospital activity. These data thus represent a gold mine of information for AP-HP researchers.
A need for visibility necessary for health actors
The usability of this data is therefore essential because it allows us to enter into a virtuous clinical evolution. Despite this potential, finding the right images in DHS is akin to finding a needle in a haystack. The images in the DHS are taken from care and are difficult for researchers to sort, which limits their use. It is in this perspective that the Label platform, co-developed by IMAGEENS and the AP-HP within the framework of an innovative public-private partnership, takes on all its importance.
Revolutionary artificial intelligence technology
In medicine, AI can streamline medical imaging research. Like a binder, Label's algorithms place tags, which can be compared to labels, on images, one by one, according to their characteristics. The data can be categorized according to the body part imaged, the type of imaging test, or even its quality. Researchers no longer spend time pruning a mass of images, they now study between data already sorted and annotated by algorithms – an essential shift from "big data" to "smart data". The potential of this technology and its alignment with the priorities of the national health system, has allowed Imageens to emerge as a French leader in the field. Imageens was notably invited to the National Assembly during the Digital and health for all event: what actions for the public health of tomorrow? " co-organized by AI for Health, so that Robert Baldwin, President of Imageens, can share his vision on health data management.
Imageens: structuring and enhancing medical imaging data Imageens
Ethics in the use of data
By collaborating with AP-HP and its health data warehouse, Imageens complies with the standards established by the CNIL. All data processed by Label's artificial intelligence is anonymized. Personal information is not attributable to a person, to ensure protection of patient privacy. Imageens technology is grafted directly to the hospital device. To guarantee its ethics in the processing of personal data, the start-up is in constant collaboration with the world of radiology which monitors the algorithms, allowing them to be in constant progress.
Medical artificial intelligence: the future of innovative solutions
Organizing and using medical data thanks to AI is the challenge of tomorrow. In the near future, it is more than likely that healthcare professionals will use an artificial intelligence tool to make a diagnosis. The objective of Imageens and AP-HP I & D is simple: to provide an exploitable structured medical database for researchers and AP-HP partners. Thus, Imageens would become one of the benchmark innovative solutions for the valuation of healthcare data via AI.
.