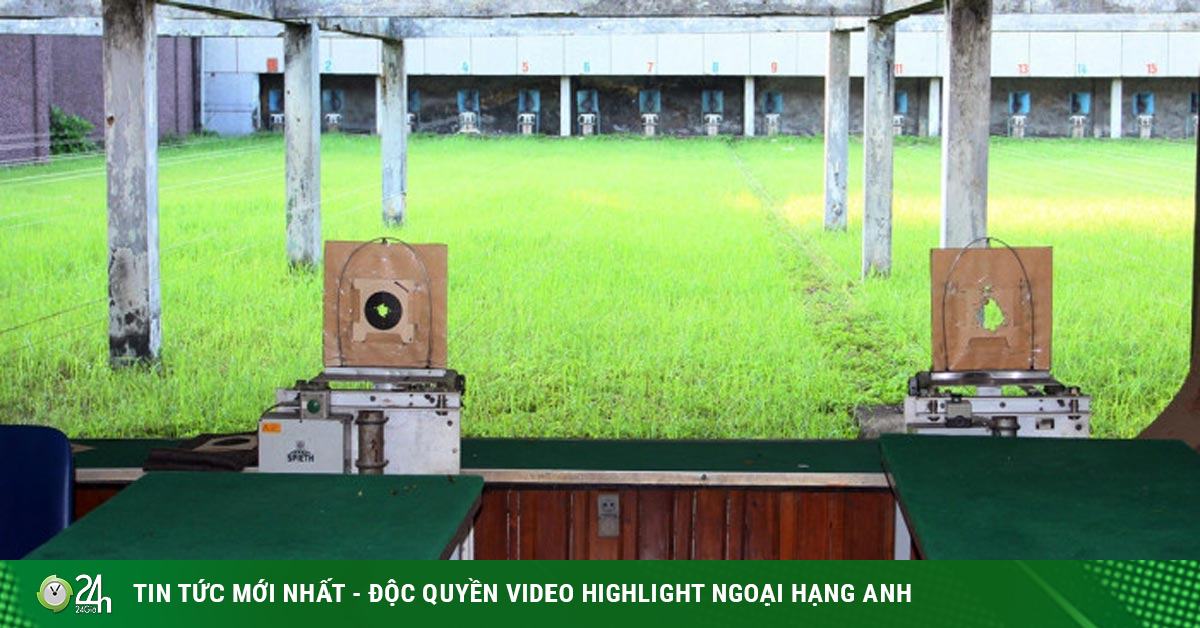 Saturday, March 13, 2021 00:04 AM (GMT + 7)
Currently, the Government has not approved the budget for the organization of SEA Games 31 and Paragames 2021, which has delayed some work …
Due to the impact of the Covid-19 epidemic, some preparations for the 31st SEA Games have not been implemented yet. This makes the public worry that the Congress hosted by Vietnam may be delayed.
Do not wait for the new budget to work
Up to this point, the Government has not approved the budget for the organization of SEA Games 31 and Paragames 2021, causing some things to be delayed.
Nhon shooting field is outdated, using paper beer to upgrade, using electronic beer to serve SEA Games 31
Typically, two clusters of projects to be repaired and upgraded with budget sources, including: My Dinh Sports Complex, National Sports Training and Competition Center (Nhon) are currently "lying still". In particular, the My Dinh Stadium and the Aquatic Sports Palace under the National Sports Complex, the shooting and flying saucer field of the Hanoi National Sports Training Center are key items that need to be improved. create a lot so it takes a relatively long time.
However, speaking with the Traffic Newspaper, Mr. Tran Duc Phan, Deputy Director General in charge of the General Department of Sports and Sports expressed confidence in bringing the works to the finish before the 31st SEA Games.
"Although not yet deployed, the project of repairing and upgrading the Sports sector has been completed and is waiting for appraisal by the Ministry of Construction. When the budget is approved, the renovation and upgrading will be completed in just 3 months to promptly organize the SEA Games money prize. Currently, a number of other jobs we have actively carried out in conditions without budget, "Mr. Phan said.
Mr. Phan also said that in addition to the facilities, the organization is not a concern because Vietnam has hosted many international sports tournaments and has experience, so the implementation will not be problematic.
According to the Traffic Newspaper, a positive point is that many localities are very active in the preparation work. For example, the tennis court cluster in Bac Ninh is going to be completed and is expected to be completed by the end of May. In addition, Bac Ninh is gradually perfecting the standard volleyball practice house to organize international competitions.
Meanwhile, according to the Deputy Director of Hanoi Department of Culture and Sports Tran Thi Van Anh, Hanoi currently has 8 construction and repair works for SEA Games 31 managed by the Hanoi Department of Culture and Sports and 12 projects. Sports managed by districts and districts have been deployed and upgraded and will be completed by August 30 at the latest.
Expert Dang Viet Cuong admits, the confidence of the Sports industry is completely grounded by the works for the 31st SEA Games are available, not newly built, only upgraded.
Difficult but still confident
Another issue that is also of great concern is whether the professional element of the Vietnamese sports team can be guaranteed when the Covid-19 epidemic has a significant impact on the plans of the sports.
According to Nguyen Thi Nhung, coach of the shooting team, despite the epidemic, the team still practices normally. The drawback is that the athletes are not trained and competed against abroad, so it is difficult to reach the best state.
"The difficulty of shooting is that this year we are adding many young athletes as the core. I still know the other teams have difficulties like us, but basically their athletes are still old, seasoned with experience, "said Ms. Nhung.
Most other disciplines share the same anxiety, like shooting a gun. Mr. Nguyen Huy Hung, Head of Weightlifting Department, said that although the team has still trained domestically during the past time, the lack of foreign training affects more or less competitiveness. Mr. Hung added that, if the epidemic is stable, by September, the subject will have a plan to ask athletes to go abroad to train in order to improve their achievements before the SEA Games.
Meanwhile, Mr. Duong Duc Thuy, Head of Athletics Department is also frustrated because not only the foreign training is frozen, but even the domestic tournaments are in a state of turmoil.
"In the near future, there will be a cross country tournament in Gia Lai but this is only for marathon and long distance runners while my athletes are mostly at short and medium distance. In the midst of such a situation, Vietnamese athletics are more worried because other countries are actively naturalizing or athletes still compete abroad due to long-term training.
The Philippines has only one high jump champion in Europe, and before that, an American athlete of their own also broke the 20-year record in the SEA Games at a distance of 100 meters. Obviously, the difficulties for us are very big ", Mr. Thuy informed.
Although difficulties are seen, all sports are confident that Vietnamese athletes will rise and win good achievements. On the sports side, Mr. Tran Duc Phan shared that in March, the industry will propose some key athletes to be vaccinated against Covid-19 to go abroad to play.
"Further, we will deploy the plan in a flexible way with the best conditions for athletes to be trained and rubbed before entering the SEA Games," said Phan.
SEA Games 31 is scheduled to take place from November 21 to December 2, 2021, including 40 sports such as: athletics, water sports, gymnastics, rowing, canoeing / kayak, soccer, shooting, shooting. bow, weightlifting, judo, taekwondo, karate, wushu, wrestling, boxing, kickboxing, fencing, badminton, badminton, tennis, volleyball, basketball, handball, bicycle, ping pong, billiards & snooker, golf, ironball, kurash, vovinam, chess, pencak silat, muay, bodybuilding, diving, dance sports …
Four additional subjects will be announced in November this year based on the list of proposed 21 disciplines that countries offer such as: Jiujitsu, bowling, swimming, martial arts, triathlon, sailing, ball Oval…
Regarding the venue, SEA Games 31 will be held in Hanoi City and some other provinces and cities such as: Bac Ninh, Hai Duong, Hai Phong, Quang Ninh, Ha Nam, Nam Dinh, Ninh Binh, Hoa Binh, Vinh Phuc. and Bac Giang.
Source: https://www.baogiaothong.vn/sea-games-31-tai-viet-nam-dang-duoc-chuan-bi-the-nao-d498663.htmlSource: https://www.baogiaothong.vn/sea-games-31-tai-viet-nam-dang-duoc-chuan-bi-the-nao-d498663.html
Responding to PV Tien Phong on March 1, Deputy Director General in charge of the General Department of Sports and Sports, Mr. Tran Duc Phan said, the sports industry …
.