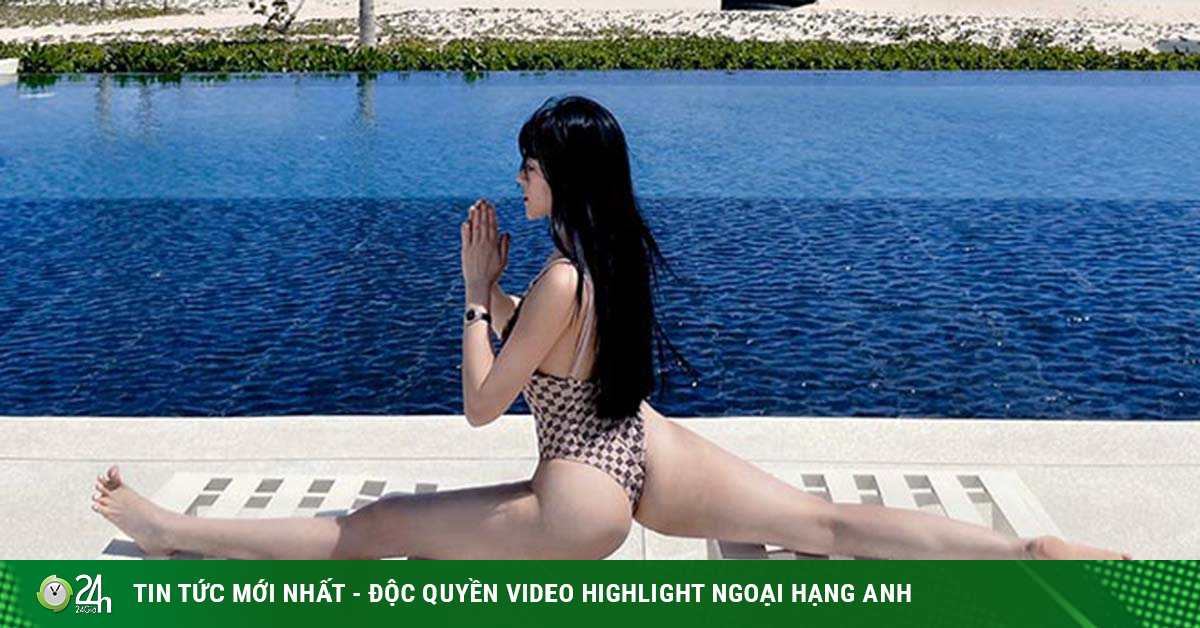 (Sports news) Many famous sports beauties such as Nguyen Mai Suong, Phuong Linh Jolie, Chau Tuyet Van or Tran Thi Hau have performed split-legged movements that will cause "storms" in 2021.

Video slide pictures of beauties practicing Yoga attract the eyes:
The Splits is one of the most common poses in yoga. Although difficult and challenging, this move brings a lot of benefits to the body. It is for this reason that this exercise is popular with many yoga and martial arts beauties.
Nguyen Mai Suong
The 9x beauty from Quang Binh is considered one of the famous hot girls of Yoga in Vietnam when she often posts pictures of performing difficult yoga movements everywhere from indoors, out to sea, even at home. Even the parking garage.
Hot girl from Vietnam Yoga village Nguyen Mai Suong
With more than 6 years of pursuing this subject, Mai Suong impresses with very difficult movements, requiring very high technique and balance. In particular, the "leg split" is a movement that she absolutely loves, appearing on most of the check-in photos every time she travels. Mai Suong once shared that she practiced this move so much that she couldn't remember the number of times she did it.
Splitting legs is a favorite move that Mai Suong uses to check-in at places she goes to
Also according to this hot girl, the split leg pose is one of the highly challenging poses of yoga practitioners, requiring flexibility, practicing many complementary exercises and not everyone can do it. Working hard at sports, Mai Suong has excellent health, a standard body with three-round measurements of 85-60-92 cm.
Phuong Tring Jolie
Not only is a famous and beautiful actress, Phuong Trinh Jolie is also known as an experienced Yoga practitioner with more than 9 years of practice, considered the best beauty in sports in Vietnamese showbiz. .
Phuong Trinh Jolie has been following Yoga for 9 years
Phuong Trinh Jolie often makes fans "roll her eyes" with very difficult yoga movements. Not only does she practice splits in the usual way, she also often has creative displays, unbelievable variations of this move that make fans admire her so good technique.
Her split leg movements are unique and beautiful
According to the actress, she had to go through many difficulties and pains and had to practice very hard to be able to successfully perform this move.
Chau Tuyet Van
Splitting legs is also a movement that Chau Tuyet Van loves very much. "Hot girl martial arts" said that this is a must-practice movement to perform in the prescribed exam, bringing beauty and uniqueness to the audience, thereby adding to the presentation score.
The bow bends are the trademark of Chau Tuyet Van
"Martial arts in general, especially with Taekwondo, requires beauty. So kicking high, straight and flexible is one of the important factors, so this move helps a lot. The biggest difference when using this movement is that martial arts must have good force and technique, not as soft as Yoga, "said Tuyet Van.
The hot girl of the martial arts village performed impressively with split legs
In particular, the ability to split legs straight like a line or bow legs with an angle of more than 180 degrees even when wearing high heels have become Tuyet Van's trademarks.
Tran Thi Hau
Famous for her two-handed nunchaku dance performances like the idol Bruce Lee, hot martial arts girl Tran Thi Hau has also caused a "fever" in 2021 with the image of performing extremely split legs. Beautiful with the subject of Yoga on the rope.
Hot girl nunchaku with a skillful split-legged performance
"As a martial arts practitioner, I used to do a lot of splits on the ground, but the splits on the rope are similar in technique and effect on the body, but it is more difficult because it requires more balance control when on the rope", Tran Thi Hau shared after performing this difficult move.
Source: https://tcdulichtphcm.vn/the-thao/nhung-hot-girl-the-thao-viet-me-xoac-chan-gay-bao-nam-2021-c28…Source: https://tcdulichtphcm.vn/the-thao/nhung-hot-girl-the-thao-viet-me-xoac-chan-gay-bao-nam-2021-c28a22582.html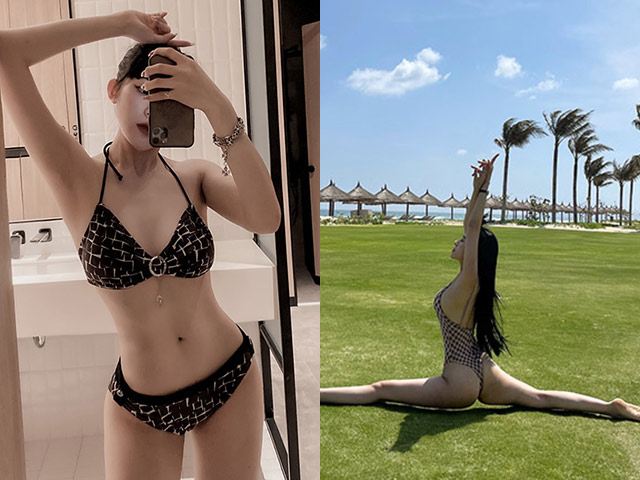 (Sports news) Famous beauty of Vietnam Yoga village Nguyen Mai Suong has released a set of photos performing difficult movements,…
According to Le Phong (Ho Chi Minh City Tourism Magazine)
.