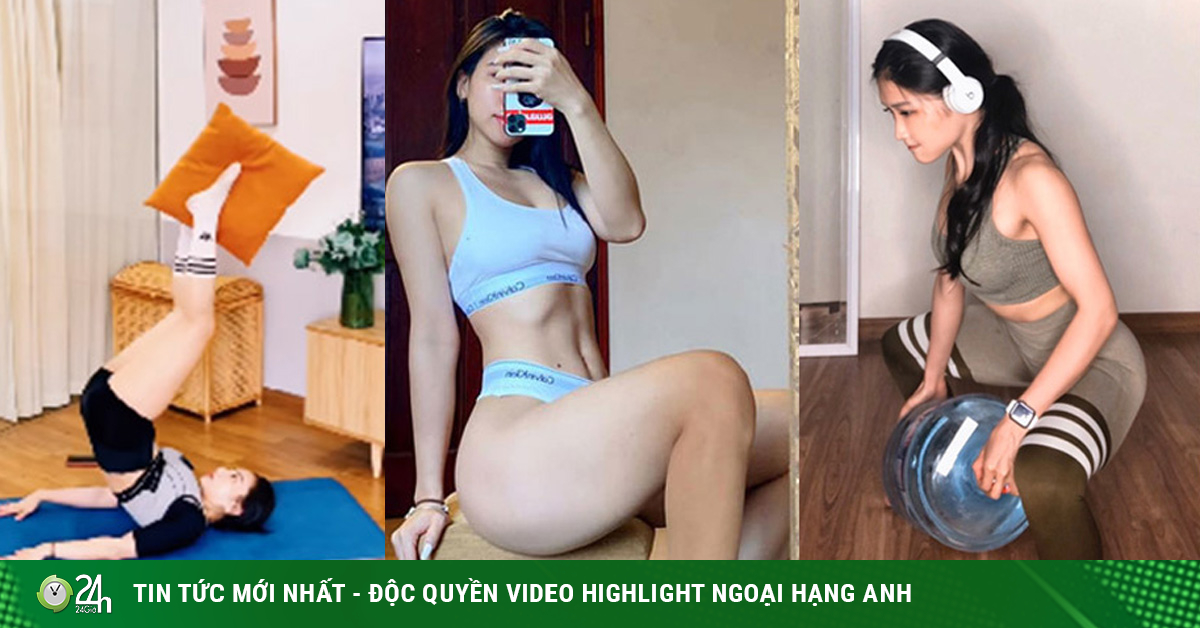 (Sports news) Only able to practice at home during a long period of social distancing, the hot girls in the gym have come up with a lot of unique and interesting exercises combined with available items at home.

In mid-2021, due to the complicated situation of the Covid-19 epidemic in Vietnam, gyms in most major cities were closed. In the difficulty due to lack of exercise equipment, the hot girls of the Gym village have come up with very unique and interesting ways to exercise.
Trang Trit exercises with a 20-liter water tank and rice cooker
Trang Trit real name is Ngo Thi Huyen Trang is the most famous coach and gymer in Hanoi with 5 years of experience. The 24-year-old hot girl once attracted attention with the successful "makeover" of losing weight thanks to the Gym to own a "fiery" body with measurements of 84-64-94 cm.
Trang Trit lifts a 20-liter water bottle and uses the apartment stairs to practice
Famous as a Gymer who loves heavy exercises, Trang Trit has used a 20-liter water tank instead of weights, or used a rice cooker and wooden chopping board to make a kitchen instead of dumbbells to practice at home during the epidemic season.
Hot girl from Gym village uses rice cooker, wooden cutting board instead of dumbbell ball
Besides, Trang Trit also takes advantage of the stairs in the apartment to practice jogging instead of cycling outdoors to limit contact with others. In addition, exercises with small dumbbells or resistance bands are also taken care of by this beautiful Gymer.
Huyen Dior practiced with a Bosu ball or a chair
Also a famous hot girl in the Vietnamese Gymnasium village with a hot measurement of 88-64-100 cm, Huyen Dior (real name Bui Khanh Huyen) has taken advantage of more than 6 years of experience in the profession to create creative exercises. combined with a chair to sit at home during the time the gym is closed.
Huyen Dior with a series of exercises combined with a chair
"Although it is a common item that most homes have, the chair is a pretty effective support partner for exercises on the butt and thighs. There is a chair to support the pillar, keep balance, we can practice when standing on one leg, the other foot resting on the chair. This helps to increase the pressure on the front thighs, back thighs or the third round much higher when you do Squats with both legs, "said Khanh Huyen.
Hot female Gymer is very focused on exercises for the third round
At the same time, this female Gymer with more than 160,000 followers also made a clip showing 7 exercises at home to still be able to have a round, toned, and attractive bust with a Bosu ball, a support device. does not cost much as well as space in the house.
Vu Thu Huong does 100 sit-ups a day with a sofa
Considered as the female Gymer with the smallest waist in the Gym village with measurements of 83-56-90 cm, Vu Thu Huong revealed how to keep her small waist during her epidemic season thanks to the sofa.
Gymer waist "ant" Thu Huong does 100 sit-ups a day with a sofa
Accordingly, the hot girl 9x has been with the Gym and Yoga for more than 8 years and always spends 30-60 minutes a day doing gym exercises at home, including regular 100 sit-ups with the sofa. In addition, Thu Huong also shared some effective waist exercises, exercises with common exercise equipment such as small dumbbells or resistance bands.
Trang Le exercises with pillows
Also a Gymer who likes to be creative, coming up with exercises combined with things available at home, Trang Le has brought fans a very unique series of exercises combined with sofa backrest pillows.
Trang Le has quite a unique set of exercises with pillows
The beautiful female Gymer with three extremely hot measurements of 87-63-97 cm said that this exercise helps increase the flexibility of the legs as well as strengthens the leg strength. In addition, it also affects most parts of the body, helping to create a beautiful shape, providing a lot of support for the back, hips, and waist as well as helping the practitioner have an abundant source of energy for a happy and healthy day. strong.
Huynh Vuong Anh Tuc practices with water bottles, books, …
With the advantage of a house near the sea, the famous hot girl gym in Nha Trang, Anh Tuc combines running along the coast or climbing mountains in parallel with exercises at home.
Gymer Anh Tuc uses water bottles and books instead of small weights to practice at home
In particular, she also uses heavy objects such as water bottles, books, briefcases, chairs, etc. to practice instead of weights to reduce boredom during social distancing.
Source: https://tcdulichtphcm.vn/the-thao/dan-hot-girl-34van-nguoi-me34-va-nhung-bai-tap-la-gay-xon-xao-…Source: https://tcdulichtphcm.vn/the-thao/dan-hot-girl-34van-nguoi-me34-va-nhung-bai-tap-la-gay-xon-xao-nam-2021-c28a22607.html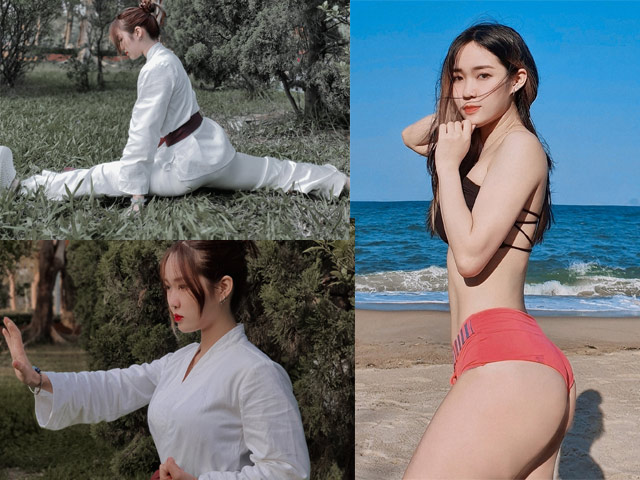 (Sports news) Not only is a Gym coach with a hot body, 24-year-old hot girl Nhat Mai is also outstanding with her martial arts talent.
According to Le Phong (Ho Chi Minh City Tourism Magazine)
.