Saturday, July 24, 2021 08:10 AM (GMT+7)
(Sports news, Tokyo Olympic news) Badminton player Nguyen Thuy Linh had an impressive victory over French opponent Qi Xuefei despite being underrated.
Inferior to Qi Xuefei (world No. 41) in both experience and ranking, Nguyen Thuy Linh (World No. 49) was underestimated in the opening match of badminton in Group P in the Olympic group stage. Tokyo 2021 takes place on the morning of July 24.
It only took Thuy Linh 34 minutes to beat the French opponent with a higher ranking than her
Although she only attended the Olympics for the first time, Thuy Linh did not show any psychology. Instead, the 23-year-old Vietnamese female tennis player pushed the game speed up very high and soon led 5-1. Qi Xuefei scored 2 points to shorten it to 3-5. Linh continued to play well to lead 11-6. The more Vietnamese female players beat, the better they were to gradually leave the opponent and win the first set with a 21-11 difference after only 16 minutes.
Set 2 started quite fiercely when the two players compared each score. Thuy Linh continues to effectively promote her speed play. When the score was 7-7, the Vietnamese player immediately scored 8 points to take the lead 15-7. While Qi Xuefei was out of breath, Thuy Linh sped up to win 21-11.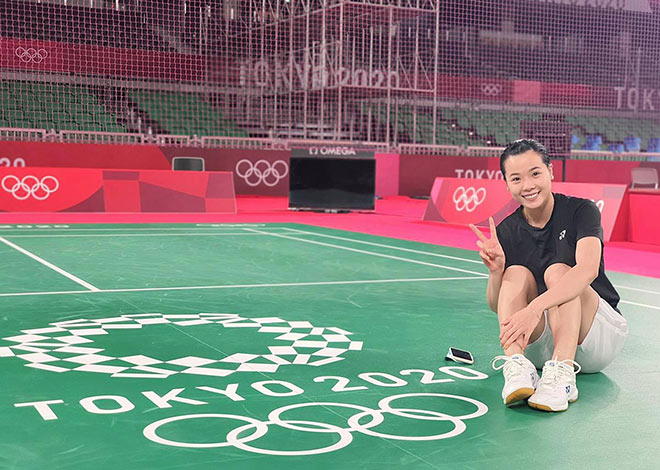 Thuy Linh will compete with the world's No. 1 female tennis player Tai Tzu Ying in the next match
It only took 34 minutes to beat Qi Xuefei in the end after 2 sets with the same score of 21-11, Thuy Linh had a great start in the goal of competing for the only ticket to continue in Group P "death".
Nguyen Thuy Linh shared her thoughts right after her impressive victory over world No. 41 player Qi Xuefei (France) in the opening match of Group P Tokyo Olympics 2021. Accordingly, the 23-year-old female player said she was very happy. emotional and also surprised about the score of this match.
Thuy Linh feels happy to have won her first match in an Olympic. The player born in 1997 also did not forget to send her thanks to the fans who followed and cheered for her. Besides, Thuy Linh sent her message that she will continue to try her best in the next matches.
Revealed after Nguyen Thuy Linh's big win against Qi Xuefei, Vietnam badminton coach Ngo Trung Dung said he and his students had carefully studied this opponent to find the right match. Mr. Dung said that today's result is worthy of Thuy Linh's days of practicing vegetarianism and not being able to compete for more than a year.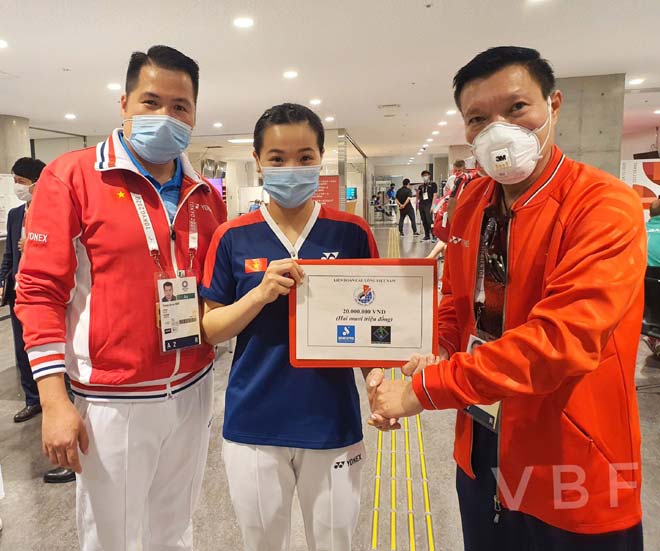 Thuy Linh gets a hot bonus
Commenting on Thuy Linh's play in this victory, Mr. Dung said: "The forte of this Chinese-French opponent (Qi Xuefei) is the cross cuts and straight shots. That's why Thuy Linh defended firmly against the opponent's two forte pieces and then pulled the opponent to focus on attacking quickly.
Not only did she well perform the set-out method, but Thuy Linh also overcame the weakness of the left end of the field. However, Thuy Linh needs to immediately forget the victory to focus on the next match against the world No. 1 player Tai Tzu Ying," Dung added.
According to the latest information, the Vietnam Badminton Federation has decided to reward Thuy Linh hot with 20 million dong after this victory. Thuy Linh's next match will take place at 12 pm on July 26 against the world's No. 1 female tennis player Tai Tzu Ying. This can be considered an "early final" match with Thuy Linh in this group.
Source: https://tcdulichtphcm.vn/the-thao/hot-girl-thuy-linh-than-toc-thang-soc-sao-cau-long-phap-tai-ol…Source: https://tcdulichtphcm.vn/the-thao/hot-girl-thuy-linh-than-toc-thang-soc-sao-cau-long-phap-tai-olympic-2021-c28a11677.html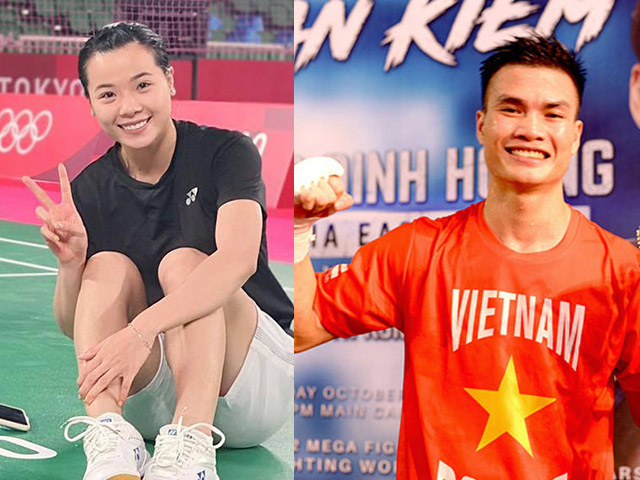 (Sports news, directly competing with the Vietnamese delegation at the Olympics) Thuy Linh had an overwhelming victory on the opening day against the…
.