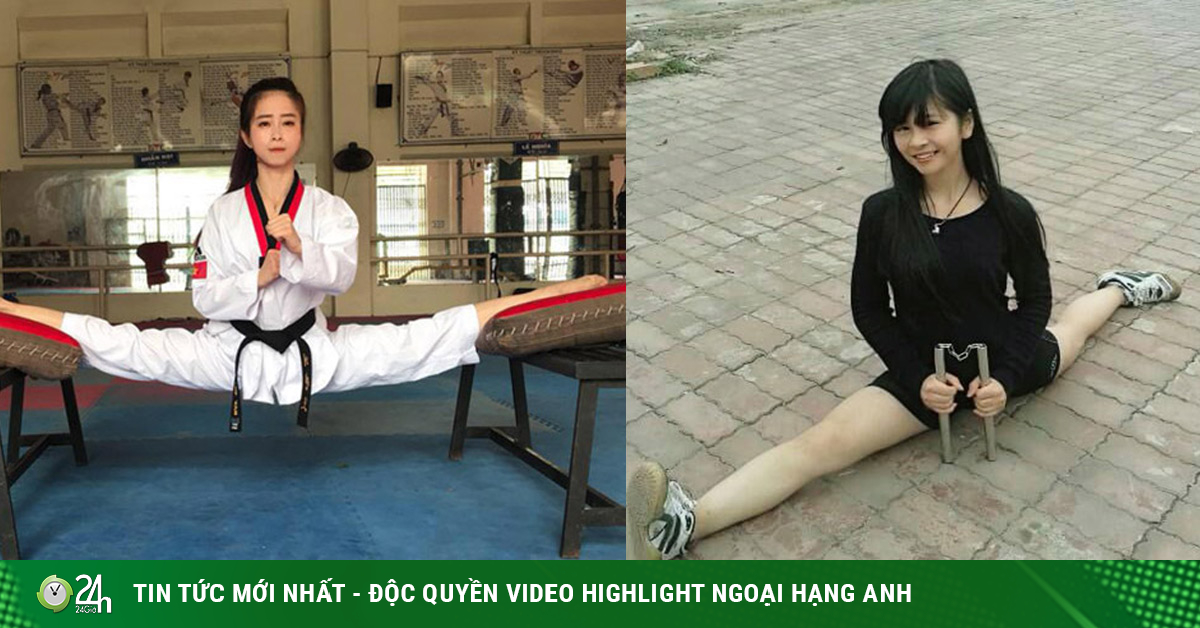 Wednesday, March 3, 2021 00:04 AM (GMT + 7)
(Sports news, martial arts news) Two hot girls in the martial arts village Chau Tuyet Van and Tran Thi Hau shared about the use of leg-splitting exercises in martial arts.
The Splits (The Splits) is one of the most common postures, bringing many benefits to yoga practitioners. If in Yoga, the leg stretching is done in a soft and flexible way, in martial arts, this move also needs strength.
Chau Tuyet Van has an impressive supple body
"In Yoga, leg stretching is usually practiced after athletes have had a certain amount of time pursuing this sport. However, in martial arts, the stretching or flexing of the body is practiced from the very beginning of the martial arts practice.
It will definitely hurt at first, but gradually the practitioner will become more flexible. As children are now practicing from a young age, they are very flexible and most of them can do it, "said Taekwondo hot girl Chau Tuyet Van.
According to the female athlete who won eight world gold medals, she has started practicing leg splits since she started practicing martial arts and constantly had to squeeze her body during training sessions. Thanks to that, Tuyet Van has incredible toughness. She impresses with her ability to spread straight legs like a thread, or bow-shaped arched legs with an angle of more than 180 degrees despite wearing… high heels, which look as flexible as real dancers.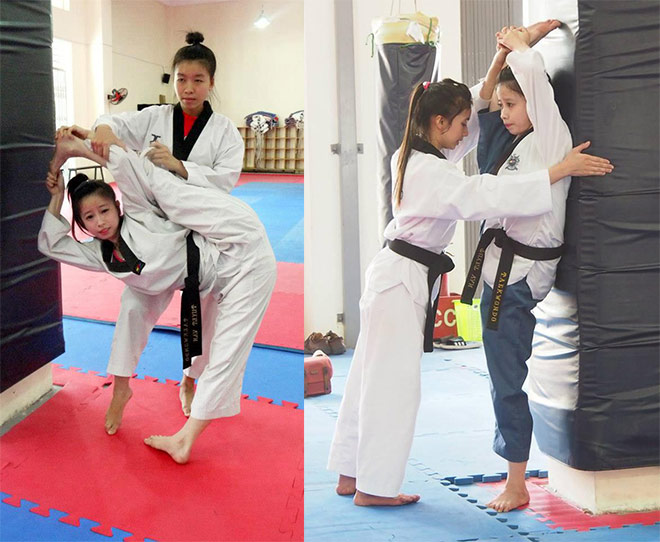 Tuyet Vân practices stretching her body throughout her training sessions
"Martial arts in general, performing boxing movements in particular, especially with Taekwondo, requires good looks, so kicking high, straight and flexible is one of the important factors, so this leg flexing is very supportive. a lot of. The biggest difference when applying this movement is that martial arts must have good force and technique, not soft like Yoga ".
"This is an optional move in the specified test, but it gives the viewer a unique and beautiful look, thereby adding to the performance score, so we often bring this technique into the game. or perform ", Tuyet Van shared about the benefits of the legs in martial arts.
"I have many memorable memories with this move. When I first practiced and performed, everyone was admired by the crowd. Then behind those beautiful pictures, there are also times of falling legs, sometimes even muscle tension ", Tuyet Van revealed.
From the point of view that students are usually not as tough as yoga or aerobics athletes, Chau Tuyet Van commented: "Van has been practiced through Yoga and rhythm. Of course, their exercises require a lot of flexibility, but Van thinks that martial arts are not rigid, but also very soft and flexible.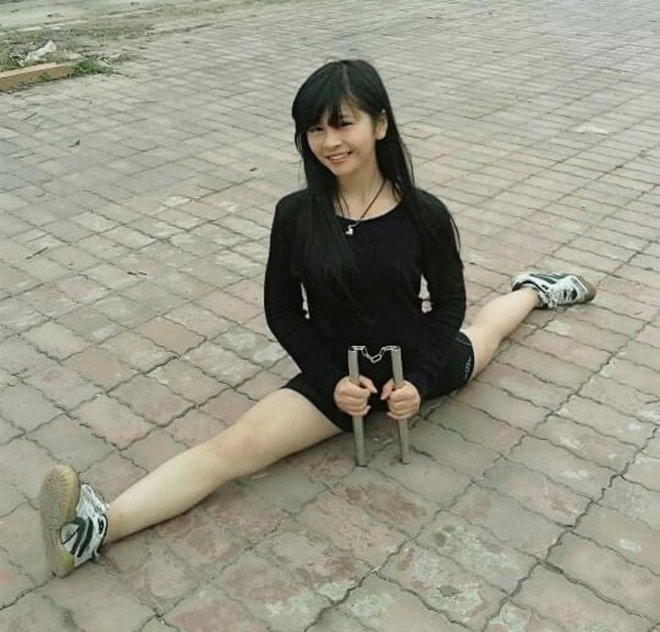 Hot girl, Tran Thi Hau nunchaku, touches her feet
Like Tuyet Van, hot nunchaku Tran Thi Hau also practiced leg splitting from the first days to martial arts, so now, this move for her becomes quite easy.
"It took me about a week to be able to lift my legs close to the ground because the smaller the body, the more flexible and more flexible the body will be. If you can do it, you have to practice regularly or else the muscles will be hard and difficult to do. I think this exercise is very important because it helps the kicks higher, more flexible and flexible ", commented Tran Thi Hau.
According to martial arts beauties, leg splits have many benefits, but this is a dangerous exercise, requiring the practitioner's caution and patience.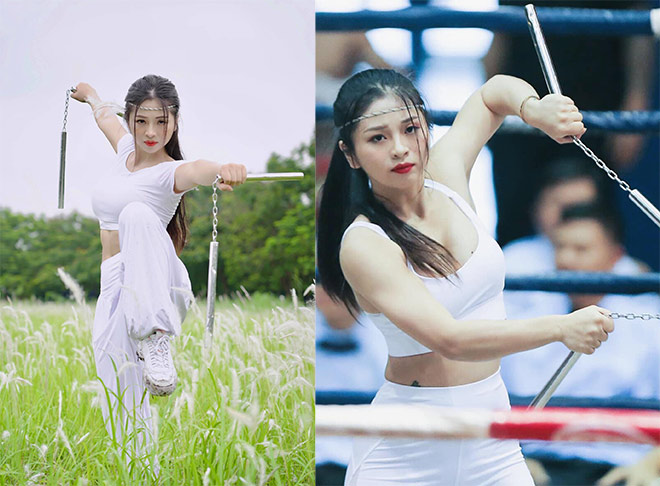 According to the hot girl of nunchaku Tran Thi Hau, the leg stretch exercises help the shots more flexible and beautiful.
"First, you need to stretch and maintain good balance, and at the same time need more strength to support. Every day, practice a little for the muscle fibers to get used to, not too much effort can damage and damage the muscles. This injury is very painful and takes a long time to recover, "said the nunchaku beauty.
* In the gym, extremely hot beauties with ideal three rounds measure how to perform leg splits. Please welcome to read the next section at 6am on Thursday, March 4.
Source: http: //danviet.vn/hot-girl-lang-vo-xoac-chan-thang-tap-deo-nhu-vu-nu-cong-dung-bat-ngo-bai-2-502 …Source: http://danviet.vn/hot-girl-lang-vo-xoac-chan-thang-tap-deo-nhu-vu-nu-cong-dung-bat-ngo-bai-2-5020213305608.htm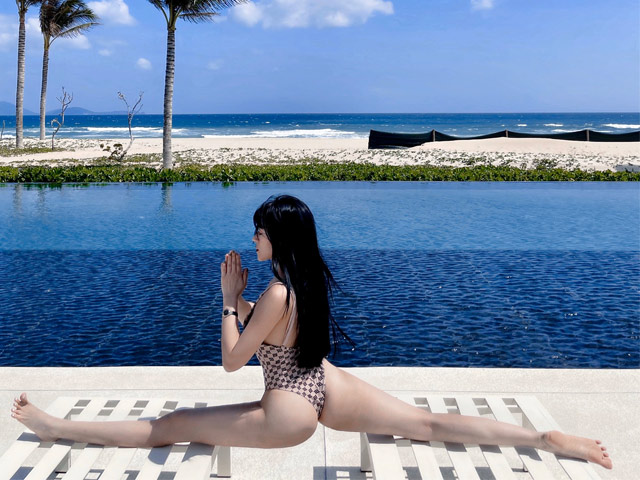 (Sports news) Hot girl of Yoga Vietnam, Nguyen Mai Suong, is very fond of stretching legs. She had the share …
.