(Sports news) From a faint postal worker because of her oversized body, Trang Nhung turned into a beautiful and famous hot girl with a spectacular makeover, losing 16 kg thanks to Gym.

Trang Nhung's "thousands of people love" body thanks to actively working out in the gym
Nguyen Thi Trang Nhung (Nickname Nhung Jhanvi) is a very famous female Gymer and personal trainer in Thanh Hoa. Possessing a face like an angel, a strong and toned body, many people mistakenly think this hot girl is just a high school girl when they first meet her.
In fact, Trang Nhung was born in 1988 and is currently a "single mom". Even more surprising, in order to have the current beauty and standard body, she had a spectacular "makeover" to lose 16 kg miraculously thanks to the gym.
"Previously, when I got married and gave birth, I gained weight uncontrollably from 49 kg to 64 kg. At that time, I did all sorts of things such as fasting, taking weight-loss pills…all of them were not effective, and also made me suffer from stomach pain. In addition, the breakup of my family made me depressed and stressed. At that time, there was a fitness center near my house, I went to try it out and stick with it until now", Nhung said.
With the determination to lose weight, Trang Nhung practiced very seriously. She worked hard to learn in-depth knowledge from experienced coaches, practiced regularly and with the right technique. Thanks to that, she reduced from 64 kg to 48 kg. Along with that is owning a toned body with a desirable three-round measurement of 84-63-90 cm.
Before coming to Gym, Trang Nhung worked as an office worker at a postal company. Her oversized body makes it impossible for her to wear her favorite clothes, can't wear skirts, has difficulty moving, and gets tired very easily. Her bad appearance also makes her confident, afraid to communicate and faint in front of the crowd.
Now, Trang Nhung becomes prominent, attracting even spreading energy to people around. She became a well-known fitness trainer. The inspirational messages she posts on social networks always attract thousands of attention.
"I feel that Gym not only changes my body and beauty but also my lifestyle. Gym motivates me to live more active and scientific. I feel in my body there is a source of positive energy, feel love for life and forget the sadness that used to haunt me, "said the female coach.
Sharing the secret of sticking with the Gym, Trang Nhung said: "Gym is not like other sports. It requires perseverance and passion. At first, it was very difficult to practice because it was quite painful and easy to get discouraged. I remember at first I was in so much pain that I couldn't walk, my limbs kept shaking, sometimes I even had cramps. But getting through this challenging period and the body starting to change is very fun and passionate."
Trang Nhung regularly exercises 5 times a week with comprehensive exercises for the body's muscle groups. When the Covid epidemic broke out, she couldn't go to the gym, she turned to jogging and fat-burning exercises at home.
As a petite girl, Trang Nhung's favorite exercise is "Sumo Deadlift", an exercise with heavy weights that requires great strength of the body and mobilizes energy from many muscle groups: "Sumo Deadlift helps fight against It helps to restore the aging of the whole body, restore and improve the pelvic floor muscles, and effectively develop the buttocks and thighs, so I think that girls who can practice this exercise will be very useful."
In addition to Gym, Trang Nhung also participates in many other sports such as Boxing, modern dance, ancient dance and swimming. Trang Nhung is an inspiration at many sports centers and has received many awards for community activities.
"The daily practice of sports, not only the gym, is the golden key in improving health, keeping fit, reducing stress, improving the brain and cardiovascular system, supporting height development, increasing resistance, help sleep better, increase life expectancy and help people stay fresh and ready for all activities as well as daily work. So I advise everyone to always make time for sports, "said Trang Nhung.
With the desire to be able to spread the love and inspiration for sports, thereby helping to improve the health of many people, Trang Nhung shared her plan to produce more exercise videos as well as healthy eating knowledge in the near future.
Source: https://tcdulichtphcm.vn/the-thao/hot-girl-phong-gym-van-nguoi-me-trang-nhung-tap-de-dep-hon-son…Source: https://tcdulichtphcm.vn/the-thao/hot-girl-phong-gym-van-nguoi-me-trang-nhung-tap-de-dep-hon-song-khoe-hon-c28a10135.html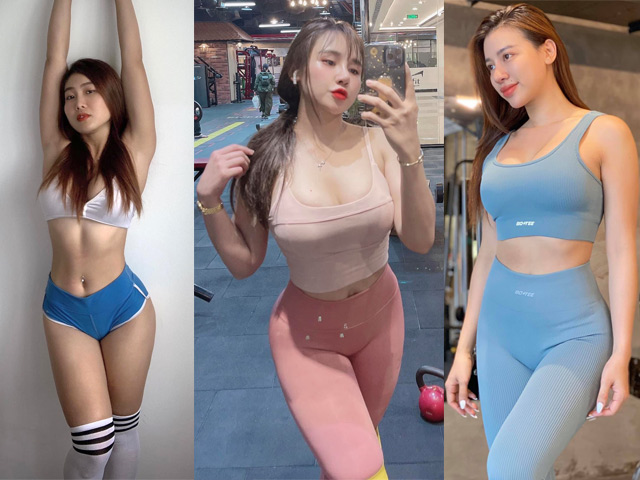 Besides training for a toned body, famous Vietnamese gym girls also spend time watching EURO 2020…
According to Le Phong (Ho Chi Minh City Tourism Magazine)
.