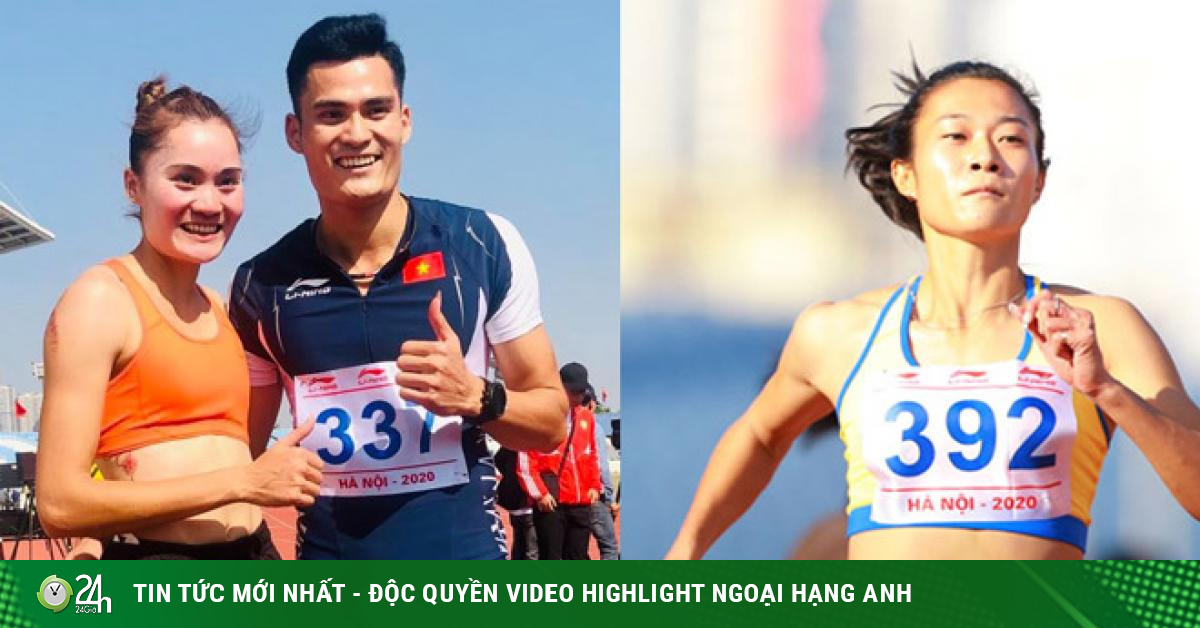 Saturday, November 14, 2020, 19:09 PM (GMT + 7)
(Sports news, athletics news) On the final day of the national athletics championship (National Championship) 2020, participating athletes have delivered great performances, including gold medals by Quach Thi Lan, Le Tu Chinh.
Two brothers of the Quach family won gold medals, dominated and ran over 400 meters for men and women
On the morning of November 14, at My Dinh National Stadium, the final day of the athletics competition 2020 ended with impressive performances by athletes. In the content of running over 400m for men and women, the brothers Quach Cong Lich, Quach Thi Lan have turned this playground into their own.
Videos of Lan's and Calendar's exams
Having to face with Nguyen Thi Huyen (Nam Dinh) on the 400m road, Quach Lan excellently finished first with a time of 55 seconds 98 to win gold medal for Thanh Hoa delegation. Huyen won the gold medal for Nam Dinh with a time of 57 seconds 54 and the bronze medal of this content belonged to Lê Thị Hồng Hân (Vĩnh Long) 1 minute 1 second 26.
2 Quach cousins ​​won a total of 4 gold medals for Thanh Hoa delegation
Thus, Quach Lan won gold medals in both 400m and 400m fencing content in this year's national championship. The figure of 55 seconds 98 that Quach Thi Lan achieved the 3rd best in her career. Previously Quach Thi Lan broke the national record with the achievement of 55 seconds 74 and 55 seconds 30 at ASIAD 2018.
Immediately after her sister brought glory to the Thanh Hoa delegation, Quach Cong Lich helped her team get the same honor in the 400m men's fence. He excellently finished the first finish with a record of 51 seconds 17, which is better than at the 2019 SEA Games when Calendar reached 51 seconds 60, Thanh Hoa runner is the national record holder for this content with 50 seconds 05.
"At a distance of 400 meters, I am very confident, so winning gold is expected. Only regret is playing in the morning so my body is a bit stiff, although my stamina is still abundant but not. I am very happy because from 2016 until now, my brothers (Lich – Lan) have just won gold medals at the same distance and together in the national championship, I am very happy for this special thing ", Quach Cong Lich Not satisfied with the achievement but still happy because the two brothers won gold.
Tu Chinh won 5 gold medals, became the richest athlete in the tournament
Video of Tu Chinh's exam:
"Queen of speed" Le Tu Chinh entered the final competition to run the female 200 meters on the competition day of November 14. Not giving the other female athletes a chance, Tu Chinh finished first with a record of 23 seconds 63 to win another gold medal for Ho Chi Minh City. This result is still less than the national record set by Vu Thi Huong 23 seconds 27, but that is also not a bad parameter of Tu Chinh when she attended many contents in this year's tournament.
Tu Chinh excellently won 5 gold medals in the 2020 national championship
More worth mentioning, this is the 5th gold medal with the content of 5/5 that Chinh registered to play. This means that Tu Chinh is the most successful athlete in the 2020 National Championship.
Tu Chinh's 5 gold medals (2 personal gold medals, 3 teammates) of Tu Chinh include: running 100 m, 200 m, relay 4 x 100 m, 4 x 200 m, mixed relay for men and women 4 x 100 m), Ho Chi Minh City ranked second in the entire delegation with 7 gold medals. Despite the richest achievements, Tu Chinh is still not the best athlete. Nguyen Thi Oanh (Bac Giang) won 4 individual gold medals at the distance of 1,500 m, 5,000 m, 3,000 m over obstacles, 10,000 m, becoming the best athlete in the 2020 National Athletics Championship.
"Out of the 5 gold medals I have, I am most satisfied with the 100m content (11 sec 43). Because after a long time to stop translating, this result is relatively positive, it helps me to work harder towards the target. At the upcoming SEA Games in Vietnam (2021) there will be many strong opponents, especially the Philippines, so I will try to surpass myself to successfully defend the 100m gold medal ", Tu Chinh shared.
Results of the top 5 teams in the National Athletics Championship 2020:
1, Hanoi: 8 gold medals, 7 silver medals, 9 bronze medals
2, Ho Chi Minh City: 7 gold medals, 5 silver medals, 3 bronze medals
3, Thanh Hoa: 6 gold medals, 1 silver medal, 3 bronze medals
4, Army: 5 gold medals, 10 bronze medals, 6 bronze medals
5, Bac Giang: 4 gold medals, 1 gold medal
Source: http: //danviet.vn/hot-girl-dien-kinh-quach-thi-lan-co-cu-dup-vang-tu-chinh-giat-5-hcv-5020201411 …Source: http://danviet.vn/hot-girl-dien-kinh-quach-thi-lan-co-cu-dup-vang-tu-chinh-giat-5-hcv-502020141119102240.htm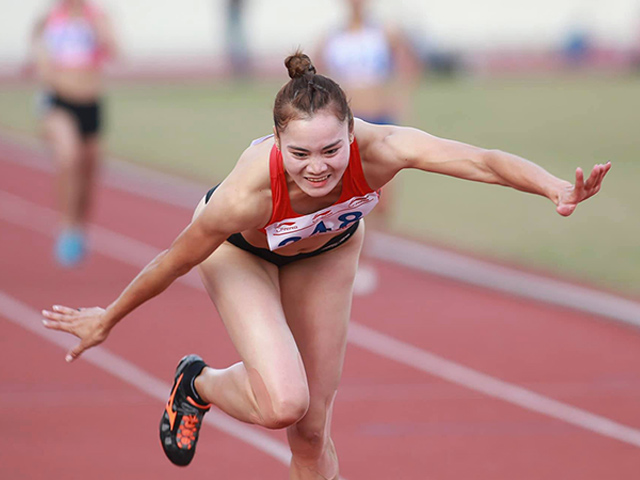 (Sports news, athletics news) Collapsed onto the field and got scratched after a spectacular victory over Nguyen Thi Huyen, …
.