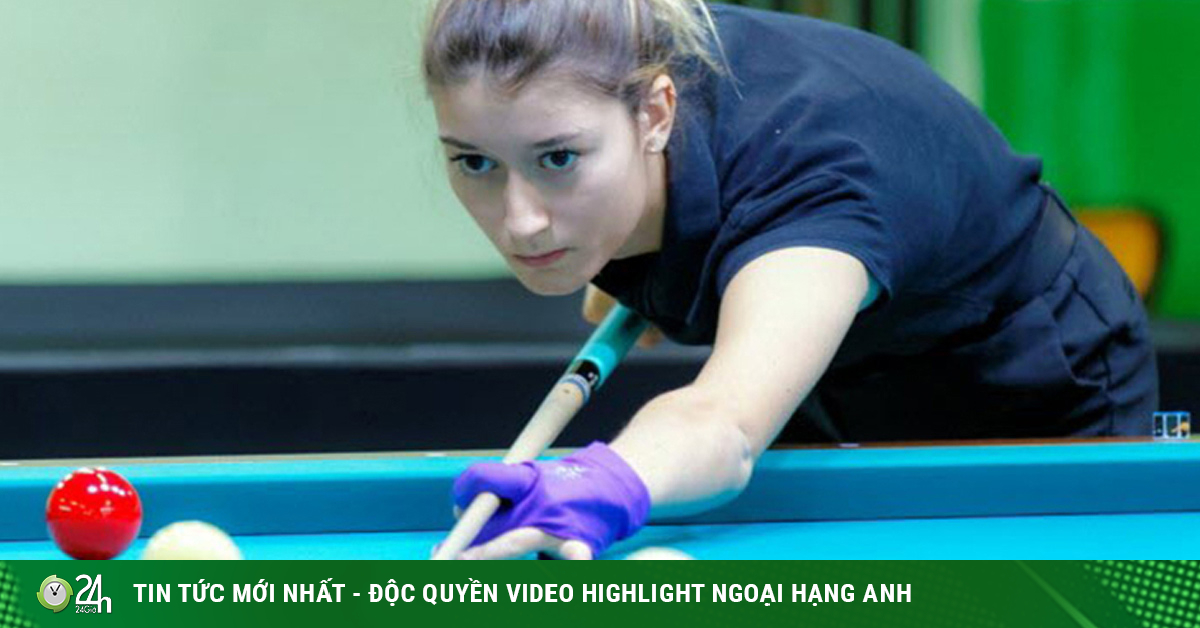 (Sports news, billiard news) Beautiful female player Lucie Petit defeated a famous senior in the French championship. Tran Quyet won easily while Eddy Merckx just won the World Cup and lost in shock at home.

Hot girl 20 years old beat the champion of France
Beautiful female player Lucie Petit recently made an impression when she finished second at the French Libre Billiard Championship. In the semi-finals, the 20-year-old player defeated the famous "senior" three-time national champion, Aurore Bellens, with a score of 150-27, including a series of 130 points.
Lucie Petit defeated the famous senior to win the runner-up position
Unfortunately, in the final, Lucie Petit was unable to continue to surprise Magali Declunder, who scored 150 points after only 2 rounds, including a 134-point hit.
The 20-year-old female player is loved by her talent and beautiful beauty
Lucie Petit is known not only as a talented young French player but also loved for her beautiful beauty. She spends a lot of time practicing billiards with the coach, brother and other male players at the club. Petit once shared that billiards is her only hobby and she wishes to have more Libre tournaments for her and female colleagues with the same passion to compete more.
Quyet Chien gets off to a good start at the 2022 Hamico Open 3 Carom Tournament
The 2022 Hamico 3-band Carom Tournament will take place from June 8 to 13 in Binh Tan district (HCMC), bringing together nearly 120 players, including many top Vietnamese players such as Tran Quyet Chien, Nguyen Quoc Nguyen, Nguyen Duc Anh Chien, or Nguyen Tran Thanh Tu, compete for the championship worth 40 million VND.
Tran Quyet Chien is participating in a movement to gather Vietnamese good players in Ho Chi Minh City
As the seed in branch B competing on June 9, Tran Quyet Chien showed his level by winning 30-9 after 15 rounds against Phu Giang, including two series of 10 points and 7 points to win. right to proceed. In other branches, Quoc Nguyen or Tran Duc Minh also won. The matches in round 64 until the end of the tournament will take place on June 12 and 13.
"Belgian goddess" has just won the World Cup and lost in shock
At the last Belgian championship, a big shock occurred when the superstar who had just won the 2022 Ho Chi Minh City World Cup championship, Eddy Merckx was soon eliminated in the quarterfinals before Jozef Philipoom. After drawing 40-40 after 24 innings, Philipoom won 2-1 in the subsequent penalty shootout against the "Belgian Goddess" who is ranked 4th in the world.
Jozef Philipoom defeats Eddy Merckx
Jozef Philipoom was born in 1964, is a famous player once of Belgian billiards when he won the World Championship 1995, European Championship 1995 and won the World Cup 2009.
Peter De Backer won the Belgian championship for the second time after the first time in 1998
Notably, this year's Belgian champion is Peter De Backer, who defeated Jozef Philipoom himself in the semi-finals (40-38) before beating Wesley de Jaeger (40-37) in the final. conclude. This is only the second time, Peter De Backer won the national championship after the first time in 1998. An unexpected ending when this tournament gathered many top players in the world such as Eddy Merckx, Roland Forthomme or Peter. Ceulemans.
Master Cadre 47/2 won the European Championship with two classic lines
Raymund Swertz won the 2022 European Championship in Cadre 47/2, a very difficult variant of Libre billiards. Notably in the quarter-finals and semi-finals, the 34-year-old Dutchman won with just one shot to score 250 points, an extremely difficult thing in this category.
Raymund Swertz European Champion Cadre 47/2
Meanwhile, French player Willy Gerimont won the 2022 European Championship in the Cadre 71/2 category.
Source: https://tcdulichtphcm.vn/the-thao/nong-bi-a-the-gioi-hot-girl-20-tuoi-danh-bai-nha-vo-dich-nuoc-…Source: https://tcdulichtphcm.vn/the-thao/nong-bi-a-the-gioi-hot-girl-20-tuoi-danh-bai-nha-vo-dich-nuoc-phap-c28a33378.html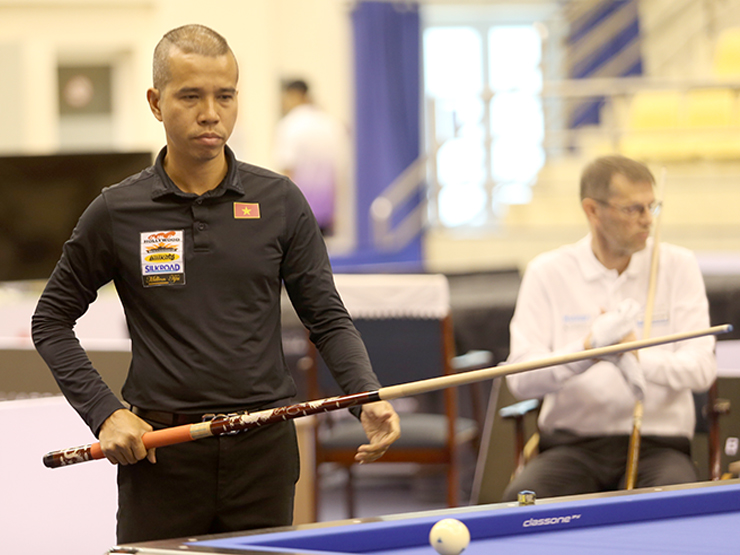 (Sports news, billiards news) How is Tran Quyet Chien standing in the ranking for the best players in the history of the 3-band World Cup?
According to Le Phong (Ho Chi Minh City Tourism Magazine)
.