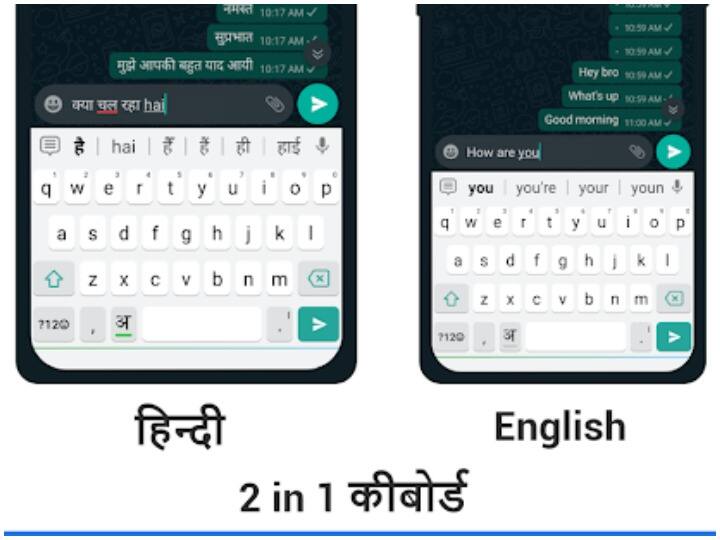 Hindi Keyboard App: The penetration of Hindi language has reached the global market and its importance is increasing. Now many multinational companies are also adopting it and have a separate team in India about it. It also has special significance for the people of Hindi speaking belt. It is used in every communication. Nowadays Hindi is being used a lot from mail to message, but many people running smartphones get upset about how to do Hindi typing in their phone. If you are also facing this problem then definitely read this news. We will tell you some such apps, with the help of which you can do Hindi typing in the phone very comfortably.
1. Google Indic Keyboard
This is the best app for Hindi typing. Google has credibility with this. In this you can switch on one click to type in Hindi as well as in English. The design and concept of the app is very good.
2. MultiLing Keyboard by Honso
After Google Keyboard, you can also rely on it. It is quite easy to use. Its design and keyboard are also great.
3. Lipikaar Hindi Keyboard
You can also download this app for Hindi typing. Its design and layout are also better. This app is also free. In this, you get the option to type in Hindi as well as in English.
read this also : Scam Alert: Photo editor app stealing personal and banking details from your phone, be careful while installing
4. Hindi for GO Keyboard by GO Dev Team
If you want to use a different keyboard from Google and Lipikar, then you can use this Hindi keyboard app. This app is also user friendly and there is no complication in running it.
5. Hindi Keyboard
If you want, you can also choose this app for Hindi typing. More than 1 million people have downloaded this app. It is also quite easy to operate. Its design has been kept simple.
read this also : Feature Phone: If you want to buy 4G feature phone then you have the option, starting price Rs 1499
6. Just Hindi Keyboard
This app looks very similar to Google Indic keyboard in terms of typing layout and features. The popularity of this app is also good. You can also select it for Hindi typing.
,