Friday, April 16, 2021 14:00 PM (GMT + 7)
With many new points in the direction and scope of selection, Red Bull and HAGL's young player search program is receiving great attention from the grave. The selection is expected to become a springboard for young players in localities to explore internal strengths, break age barriers on the way to conquer football passion.
There is more than a week to go on the journey of "Arousing the inner strength of future players" officially started, but right now, the program has received thousands of applications from young football lovers. rock, promising dramatic and bloody competitions. The selection program will come to the first stop in Tien Giang on April 24.
Among the annual selections of academies and training centers, what makes the difference and strong attraction for the young talent search program of Red Bull and Hoang Anh Gia Lai Club?
Arousing internal strength of players 15-20 years old
Instead of targeting the normal training age of 11 to 15, in the first year of cooperation, Red Bull and HAGL's selection program focused on searching for potential players of 15-20. Explaining this surprising move, Coach Kiatisuk said: "15-20 is the most important turning point for you to decide whether to pursue or stop with a professional football career".
Coach Kiatisuk commented on the differences in the upcoming selection
No longer in the testing or learning phase, 15-20 is the age that forces players to start thinking seriously and building long-distance strategies. You no longer have plenty of opportunities for hesitation or doubt. Or a time of courageous commitment, challenging the limit to fully exploit internal strength. Or that passion for football will forever stop at two words hobby. Therefore, this will be an extremely big advantage for talents in the 15-20 age group. You have the same passion, determination and enthusiasm. As long as a source of positive energy awakens at the right time, the abundant inner force where you will be energized.
Participating in the selection, you will be presented with age-appropriate challenges for your potentials to be most evident. In the qualifying round, the candidates were divided into 3: 3 and 5: 5 competitive teams with a duration of 3 minutes / match. In the final round, 16 contestants selected from 04 provinces will be divided into teams (5 contestants / team) to compete against.
While most of the polls are aimed at the teenage years, the Red Bull and HAGL programs have opened the door open to "out-of-date" talent.
New provinces appear on the journey to spread positively
The Red Bull and HAGL first-time youth football talent selection program is truly a rare open selection for local young players who show off their talents and move closer to footballing careers. Beyond a talent scout period, this program will be an energetic playground – where passion for football is unleashed and the positive spirit is the catalyst for internal strength and excitement. .
Enthusiasm, self-confidence or inner strength – are you feeling positive energies in your veins? Give yourself a chance to roll over, exceed your limits and live to the fullest with the love of football!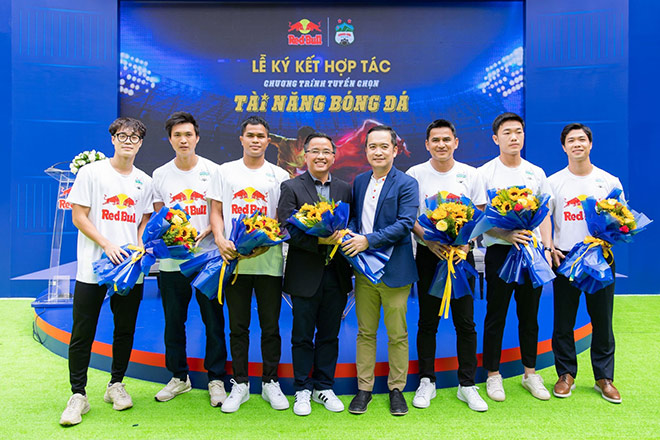 The cooperation between the Red Bull brand and the Hoang Anh Gia Lai football club opens up professional football contact opportunities for young players with full strength.
The more expected difference of this selection round, with the investment criteria needed to be focused, Red Bull and HAGL decided to focus on searching for internal players in 4 provinces before progressing to the round. The final, promising talent shows that explode internal force took place in Ho Chi Minh City. HCM City.
The best faces will have the opportunity to participate in a 4-month training course held at HAGL Youth Club, Gia Lai province. Throughout the training process, you will be equipped with standard living and training conditions in addition to a football scholarship of 20,000,000 VND / person from the companion Red Bull unit.
Mr. Nguyen Thanh Huan, General Director of Vietnam TCPV Company Limited, which owns the Red Bull brand name, is full of expectations: "On the journey to pursue your dream on the pitch, besides skills or tactics, your spirit and positive energy will be a lever to help you bounce further in your professional football career. We have the absolute right to trust the bright factors that are about to come out. You are the new representatives of a new generation of enthusiastic, energetic youth. "
The Red Bull brand, a subsidiary company of Vietnam, has accompanied with Hoang Anh Gia Lai football club to launch a program to select young football talents. Go through qualifying rounds in provinces and cities including Tien Giang, Can Tho, Gia Lai (Pleiku), Binh Thuan and the final round in Ho Chi Minh City.
At least 1 and at most 4 candidates with the best performance will be selected by Hoang Anh Gia Lai Football Club to participate in a formal training and training course corresponding to their age. At the end of the 4-month training course, you will have the opportunity to sign an official contract with Hoang Anh Gia Lai Football Club.
Let Red Bull awaken a source of positive energy, arouse internal resources ready to conquer football passion today!
For more information, please visit http://redbulltainangbongda.com/ or call hotline 1900-969674.
Source: http: //danviet.vn/hagl-va-red-bull-cung-tay-khai-pha-noi-luc-cau-thu-tre-tim-kiem-tai-nang-do-tu …Source: http://danviet.vn/hagl-va-red-bull-cung-tay-khai-pha-noi-luc-cau-thu-tre-tim-kiem-tai-nang-do-tuoi-15- 20-502021164135823386.htm
.