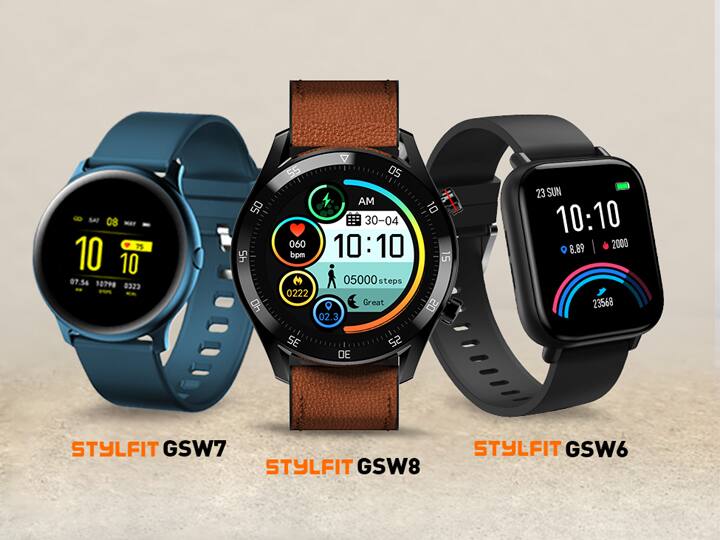 Tech company Gionee has launched its three new smartwatches in India, including Gionee StylFit GSW6, Gionee StylFit GSW7 and Gionee StylFit GSW8. Two of these three smartwatches support Bluetooth based voice calling. Apart from this, they also have fitness tracking heart rate monitor sensor. It supports Android and iOS. Separate sports modes have been given in all three watches, which include outdoor running, cycling and walking etc.
Features of Gionee StylFit GSW6
The Gionee StylFit GSW6 has an in-built microphone and speaker. It comes with a square display and is protected by curved glass. Apart from the blood oxygen monitor, this watch also has a heart rate monitor. For connectivity, Bluetooth v5 has been given in it and it is specially for voice calling and music playback. This smartwatch can also be used during calling. For power, it has a 220mAh battery.
Features of Gionee StylFit GSW7
The Gionee StylFit GSW7 sports a 1.3-inch circular touch display. There is Bluetooth v4 for connectivity and it has got a rating of IP67. It also has the feature of heart rate tracking in addition to blood oxygen monitor. There is no calling feature in this watch. The battery in it gives a backup of 4 days. This also gives the facility to click photos on the phone.
Features of Gionee StylFit GSW8
Sports modes like walking, running, hiking have been given in this watch. It has features like heart rate monitor, sleep tracking, pedometer and calorie counter. This watch has a 300mAh battery. It comes with a circular display, in which calling feature is also available.
cost
Talking about the price, the Gionee StylFit GSW6 is priced at Rs 6,999, while the Gionee StylFit GSW7 costs Rs 3,999 and the Gionee StylFit GSW8 costs Rs 8,999. Under the launching offer, the price of Gionee StylFit GSW7 will be available on Flipkart for Rs 2,099, this is the launch offer. This price is only for the Mimi Pink variant of the smartwatch.
read this also
Syska Bolt SW200 Smartwatch: This special watch launched in India, will get sanitization reminder feature
Can Smartwatch Cause Headache? Learn Reality
.