Wednesday, October 28, 2020, 00:15 (GMT + 7)
(Sports news, martial arts news) The martial arts coach's unsanitary behavior is being fiercely criticized by fans.
Video coach sprayed water on the student's face before the match:
Due to the effects of the Covid-19 epidemic, many sports tournaments around the world cannot take place, and re-organized events must ensure a medical safety factor to avoid the spread of disease. A martial arts event called Bushido Fighting Championship (BFC), held on October 25, has a situation that is extremely unfortunate between coach and fighter.
Sultan Zholdoshbekov won 4 matches in the evening to win the BFC chicken league title
To motivate the spirit and create alertness for boxer Sultan Zholdoshbekov before the match, the coach hydrated and sprayed the student's face. After this rare "fire infusion" phase, Zholdoshbekov seemed to be energized to help him knock-out 3 different opponents to enter the championship match.
In the chicken class final, Zholdoshbekov played closely and attacked effectively against Rauan Bekbolat. Not knocking out the opponent, but thanks to a higher score than the Kazakh boxer won, thereby winning the BFC chicken championship title at home.
Despite winning the 14th impressive in his career (1 loss), but Zholdoshbekov was not mentioned too much by the audience, because fans only focused on criticizing the "rain" phase of the coach.
"What is he doing, if he wants to splash the water, he can do it differently, he doesn't have to do it," criticized one social media user.
"It's like a superstitious game. But if you really want to do it in a more discreet place, in the middle of the arena it's not like," another spectator urged.
Source: http: //danviet.vn/fan-lang-vo-buc-xuc-hlv-ngam-nuoc-phun-vao-mat-giup-vo-si-thang-4-tran-5020202 …Source: http://danviet.vn/fan-lang-vo-buc-xuc-hlv-ngam-nuoc-phun-vao-mat-giup-vo-si-thang-4-tran-50202028100141675.htm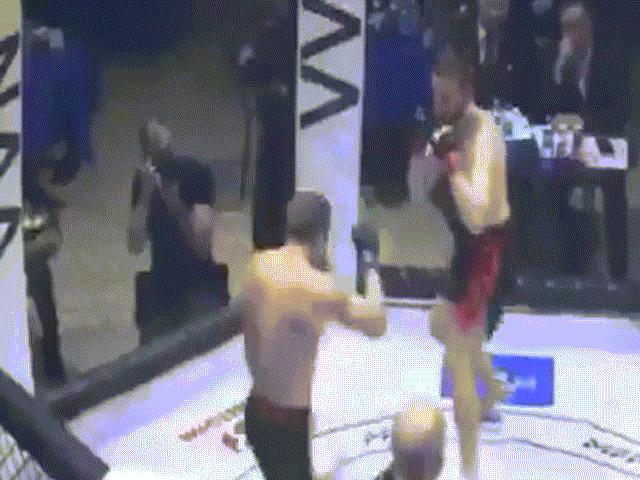 (Sports news, martial arts news) Boxers almost fell into a state "dead standing" after a powerful punch like a hammer from the side …
.