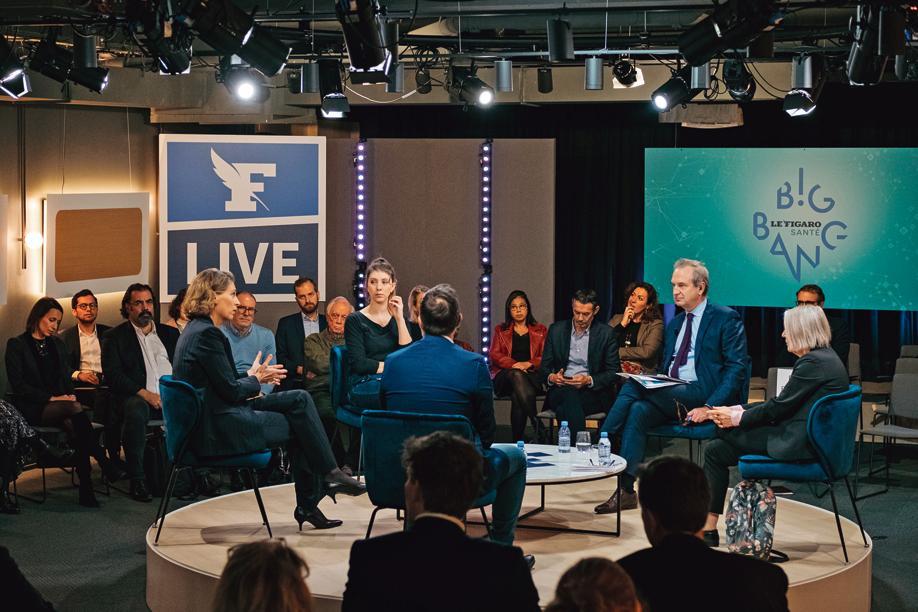 Thanks to advances in research, the disease could become chronic. The mobilization of the whole of society is essential.
A few years ago, the announcement of cancer sounded like a death sentence. A vector of fear, sometimes of shame, cancer was the taboo disease par excellence. Scientific advances are changing the game. By acting on diagnosis, treatment or prevention, researchers have succeeded in considerably improving the cure rate and the vital prognosis of patients. Are we on the verge of overcoming cancer, or rather, of chronicizing it? Is France giving itself the financial and human resources to pursue this objective?
These questions were at the heart of the debate on the first morning of Big Bang Health, led by Cécile Thibert, science and health journalist for Le Figaro. Three speakers, closely involved in the fight against cancer – Jérôme Galon, director of research in immunology at Inserm, Clarisse Lhoste, president of the MSD France laboratory, and Catherine Tourette-Turgis, founder of the Université des patients-Paris Sorbonne – expressed their hopes and concerns for the years to come.
" READ ALSO – Cancers: towards early detection with a simple test
Hope, first of all. In this area, immunotherapy is self-evident. Jérôme Galon explains the uniqueness of this therapeutic approach, the fruit of a century of research: "Where traditional therapies aim to kill cancer cells, immunotherapy relies on stimulating our own defense mechanisms to eliminate the tumour. The patient thus becomes his own medicine. » And the results are groundbreaking, especially on lung cancer, known to be the most widespread and deadliest. "Immunotherapy is still in its infancy", predicts Clarisse Lhoste. Combined with traditional treatments such as chemotherapy, stimulation of the immune system is even more effective. One of the most promising avenues is certainly that of a "personalized curative vaccine combining messenger RNA and immunotherapy" mentioned by Clarisse Lhoste. The result of a partnership between Moderna and MSD, this revolutionary vaccine could transform cancer into a chronic disease within a few years.
" READ ALSO – Cancer: the State finances a French-style "Cambridge"
But it is still necessary that these treatments of the future can benefit the greatest number. Before falling into the public domain, drugs are expensive, very expensive. Is it the fault of pharmaceutical patents? For Clarisse Lhoste, patents are not an obstacle in the fight against cancer, quite the contrary. "The patent encourages players to innovate, to explore new avenues, to take risks," she explains. A necessary stimulus, at a time when public funding for research continues to decline. "In science, we do research, but above all we do research for funding," quips Jérôme Galon. In the fight against cancer too, money is the sinews of war. The researcher recalls that France is still far from devoting 3% of its GDP to scientific research, an objective nevertheless set by the "Europe 2020" strategy and now enshrined in national law. Reduced to a trickle, the French budget pales in comparison to American, Chinese or even South Korean investments… Ultimately, the risk of downgrading is real, even though our country has excellent researchers.
Social recovery
For Catherine Tourette-Turgis, the lack of funding is not the only blind spot in the fight against cancer strategy. This teacher-researcher, a historic figure in the fight against AIDS, deplores the fact that post-cancer is not thought about: "Society struggles to follow therapeutic successes and to support the patient in his recovery journey. You can be restored on a medical level, but not on a social, personal level. The return to professional life, which concerns 80,000 new cases per year, remains according to her a "test": "26% of patients leave their jobs as soon as the diagnosis is announced and 13% of former patients are still discriminated against at their back to work," she says.
What if, paradoxically, fighting cancer meant learning to live with it? This is the conviction of Catherine Tourette-Turgis who campaigns, through her University of Patients, for the voices of those she is accustomed to calling "survivors" to be heard more.
What is Immunotherapy?
Immunotherapy refers to treatments that stimulate the patient's immune defenses to fight against the disease. Advances in cancer immunotherapy were hailed by the 2018 Nobel Prize in Medicine, awarded to James Allison and Tasuku Honjo. Unlike chemotherapy and radiation therapy, immunotherapy does not specifically target cancer cells but works with the immune system to kill them. Effective in treating certain types of cancer, often in support of traditional treatments, immunotherapy is still at the research stage for many others. It is nevertheless one of the most promising avenues of cure against cancer.
.