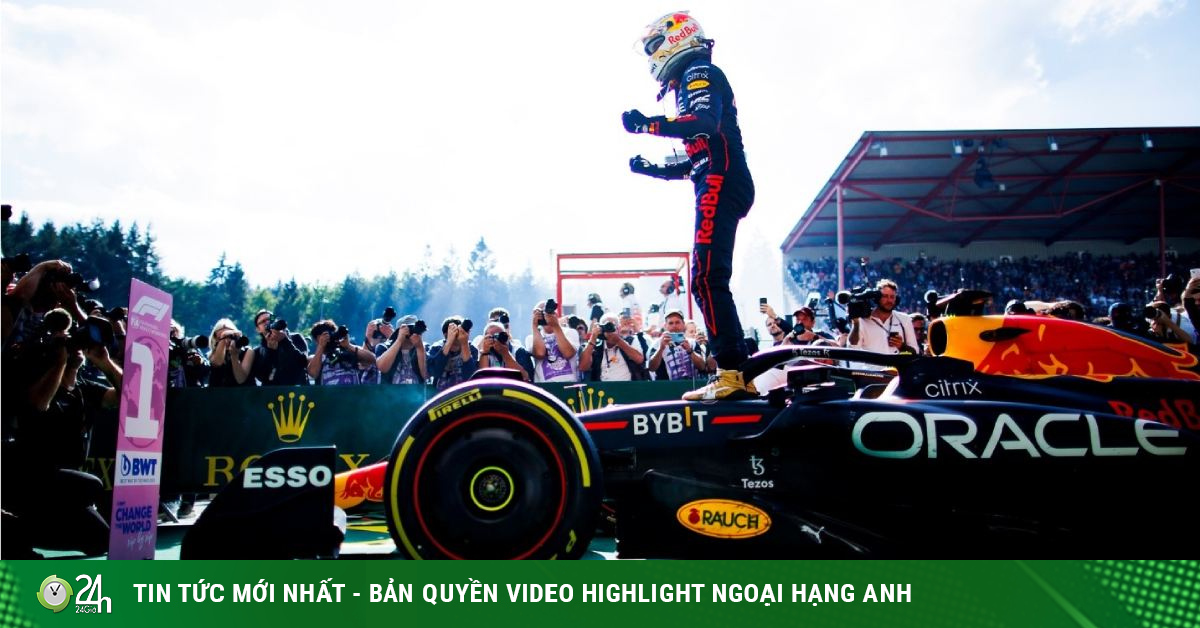 (Sports News – F1 Racing News) A race is expected to have many surprises when many drivers have to receive penalties before the race. But the dominance of Red Bull made the race arranged after only … 10 laps. However, the Belgian GP 2022 is still not short of remarkable statistics, below is a summary of some of them.

Belgian GP
Qualifying session: Alonso's best in 15 years
Max Verstappen was completely unchallenged on day 7 at Spa-Francorchamps and easily won P1 for the second year in a row. However, he will not start from the pole position because he has to receive a penalty from Friday. Previously at the Mexican GP 2019, the defending champion also lost the pole due to not obeying the yellow flag signal in Q3. Thanks to that, Carlos Sainz got the second pole in his career, after his success at Silverstone.
4th 1-2 win for Red Bull in 2022
This is Ferrari's 11th first start at Spa, equaling McLaren's record at this circuit. "War Horse" can't even make it to Q3 in the last two years (2020 and 2021). The pole winner has won 6 of the last 7 races, an achievement that can give Sainz confidence. However, next to the #55 wheel is Red Bull's second driver, Sergio Perez, who has a 4th first row start, a Mexican record held by Pedro Rodriguez since 1971. He also helps Red. Bull has the 150th stage to start in the top 2 in F1.
Fernando Alonso started P3, the second time this season he was in the top three after P2 in Montreal, Canada. The last time the Spaniard got this position in Belgium was in 2007, when he raced for McLaren. Lewis Hamilton is fourth and equals 7-7 at Mercedes this season with George Russell right behind him in fifth.
7th Podium for Sainz after 14 stages
Alex Albon finished 6th, Williams' best result since Sochi 2021 (P3 for Russell) and the Thai driver's first leg in Q3 2022. Daniel Ricciardo was eliminated in Q2 with 11th place, but will starting P7, his highest ranking since Imola 10 races ago. Sebastian Vettel is only 0.002s away from Q2 and has been eliminated from Q1 for the 5th time in the last 6 races. Similar is Kevin Magnussen with the 5th time this season stopped in Q1. But most notably Valtteri Bottas, Alfa Romeo's driver, finished a 148-race streak past Q1 when he was eliminated for the first time since Monaco 2015.
As for Verstappen and Leclerc, another parameter that both are interested in is the lowest starting position of a driver who won at Spa – P16 Michael Schumacher in the 1995 race… before both. top steering wheel was born. Max has 3 podiums when starting outside the top 15 in his career and the lowest starting position that Charles can reach podium is P7 in Austria 2020.
Main race: Verstappen recreates achievements from the 1960s
Russell maintains a record of finishing in the top 5
Verstappen won from 10th place in Hungary and this time he did even more, starting from P14. Consecutive wins from P10 and below starting positions have only occurred once in F1 history 62 years ago (Bruce McLaren won the US GP 1959 from P10 and the Argentine GP 1960 from P13). Red Bull has also just finished 1st time from outside the top 6 against Hungary – now they have 2 consecutive victories and from the lowest starting position (P14).
Max had never led a lap at Spa in a green flag state, until round 12 of this year's race. Driver #33 has had 9 victories this season, only 1 more coronation less than the achievement in 2021. Perez finished 2nd (best individual performance at Spa) and brought the 21st 1-2 win in history for the "god", the 4th time in 2022 after Imola, Barcelona and Azerbaijan.
Alonso has scored 9 consecutive races
Sainz is 3rd, has 7th podium this season, more than twice that of teammate Leclerc. Before that, the Spanish driver had only completed 2 laps in the last 3 Belgian GP stages with the best achievement being P10. Russell placed 4th, and went on to finish top 5 in all races in 2022 except Silverstone when he crashed on corner 1.
Alonso finished 5th thanks to Leclerc's penalty and equalized Alpine's top result this season. He had 9 consecutive races to score points for the French racing team. And Leclerc is only ranked 6th, and has exactly 1 podium in the last 9 races (winning in Austria). Esteban Ocon finished seventh on the occasion of the sixth anniversary of his F1 debut at the Manor team at the 2016 Belgian GP.
With P8, Sebastian Vettel has the 6th stage to score in 2022 with Aston Martin while Gasly also ends a series of 5 consecutive races empty-handed with 9th place in the 100th start of his career. Alex Albon is the final scorer of this leg and the third point this year for Williams.
Albon's celebratory photo after successfully defending position P10
In the end, Hamilton had to drop out in the first round for the fifth time in 302 career stages – but the third time at Spa-Francorchamps after 2009 and 2012. The last race fans saw Hamilton stop early was 6 years ago, during the famous 2016 event at the Spanish GP stage, which marked the first big step of the great rival Max Verstappen.
The next race of the triple-header series will take place at Max's home ground at Zandvoort racecourse, the Netherlands from September 2 to 4.
Source: https://tcdulichtphcm.vn/the-thao/dua-xe-f1-thong-ke-belgian-gp-chien-thang-thu-2-lien-tiep-tu-n…Source: https://tcdulichtphcm.vn/the-thao/dua-xe-f1-thong-ke-belgian-gp-chien-thang-thu-2-lien-tiep-tu-ngoai-top-9-nha- vo-dich-di-vao-lich-su-c28a37897.html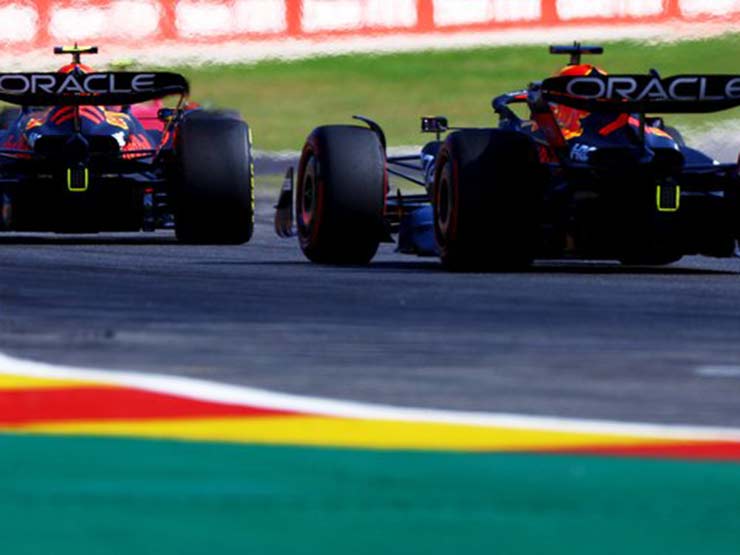 (F1 Racing News) As the defending champion shared: "The car is as fast as a spaceship!", Max Verstappen from 14th place won the Belgian GP 2022 with 'Checo'…
According to Roger Bui (Ho Chi Minh City Tourism Magazine)
.