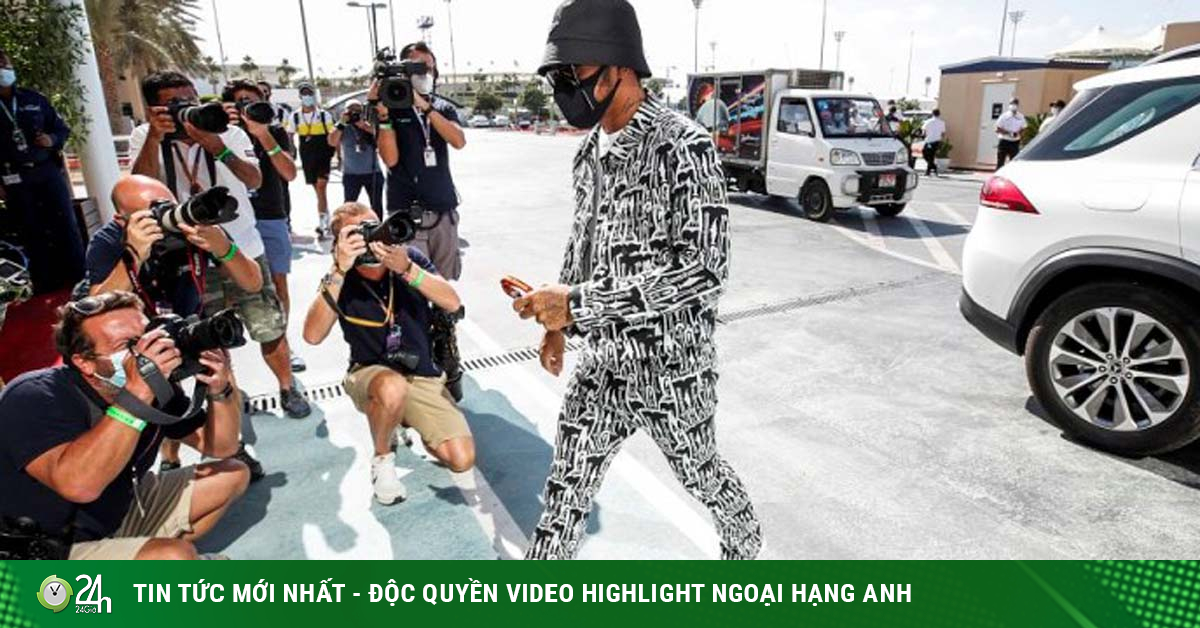 Saturday 12/12/2020 13:01 PM (GMT + 7)
(Sports news – F1 racing news) The 17th stage, the final race of the 2020 season will officially take place at the Yas Marina race track, in Abu Dhabi.
"The King" Hamilton returned
The season ended with the 17th track at the Yas Marina track, where Hamilton had won the previous season. The individual and team championship positions have been previously determined and in this return, it is theoretically just a competition for the remaining positions of the drivers behind champion Hamilton.
Hamilton returned to play in Abu Dhabi
With a poor handling in the Sakhir (Bahrain) race last weekend in the starting lap, Verstappen knocked himself out of the race and one day the technical team of Mercedes was working in a distraction, Bottas only finished eighth. The gap between Bottas (Mercedes) who ranked second and Verstappen (Red Bull) was widened by 16 points.
Theoretically, Verstappen still has a chance to compete for second place in the end if he does well in the last race in Abu Dhabi, and Bottas still performs as poor as the last race.
At Sakhir last weekend, when Hamilton was unable to play due to a Covid positive and had to undergo mandatory isolation, young Mercedes driver Russell was given the opportunity to compete in the champions' car. The young driver who is currently playing for Williams did everything very well and could be said to be perfect on his first official appearance for Mercedes, before the technical team with blunders took the chance. First win in an F1 race by Russell.
Back in Abu Dhabi, just in time for Hamilton to return to action, which means Russell will return to his current main team, Williams. Young racers' adventures just a little more will probably make people remember more.
Many farewell after the Abu Dhabi GP
This weekend's race in Abu Dhabi will be Vettel's final showdown for Ferrari. Next season he will be Aston Martin's man. Vettel has played a total of six seasons for Ferrari and won 14 victories for the Italian team.
Yas Marina is a racing track that celebrates four times the world championship when he won his first world championship in the last race of the 2010 season. The season that German drivers must compete. fiercely for Alonso was then playing for Ferrari, and it is not until the last race in Abu Dhabi that the championship can be determined.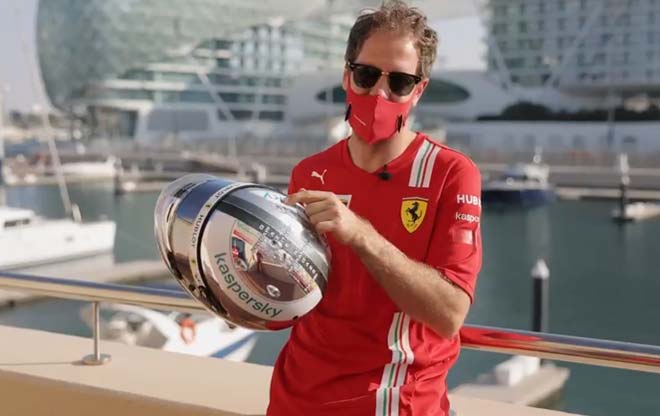 Vettel and the ultimate helmet model with Ferrari
As has been expected in previous races, this season can be said to have been a rather successful one for Mexican driver Sergio Perez and with mistakes made by the Mercedes technical team during the Sakhir race. Perez won his first F1 career win.
With the last victory, Perez secured 4th place on the rankings and probably will belong to him after the Yas Marina Circuit race ends. Perez's current distance and the 5th ranked racer Ricciardo is 13 points.
Theoretically, Ricciardo still has a chance to turn things around, but the Australian driver doesn't have much chance of getting a high score in Abu Dhabi. It is a bit of regret for Perez to this day he has yet to receive an offer for a new seat in the 2021 season.
Yas Marina is also Raikkonen's farewell in Ferrari to become Sauber's in the 2019 season. More information for those who love Robert Kubika racer, he will be the official driver with Russell right Team Williams' driving duo in the 2021 season.
Yas Marina is a new and modern race, since being put on the F1 races (2009 season) Hamilton is leading with 5 wins, followed by Vettel with 3 times, and Raikkonen has A pretty impressive win in the 2012 season.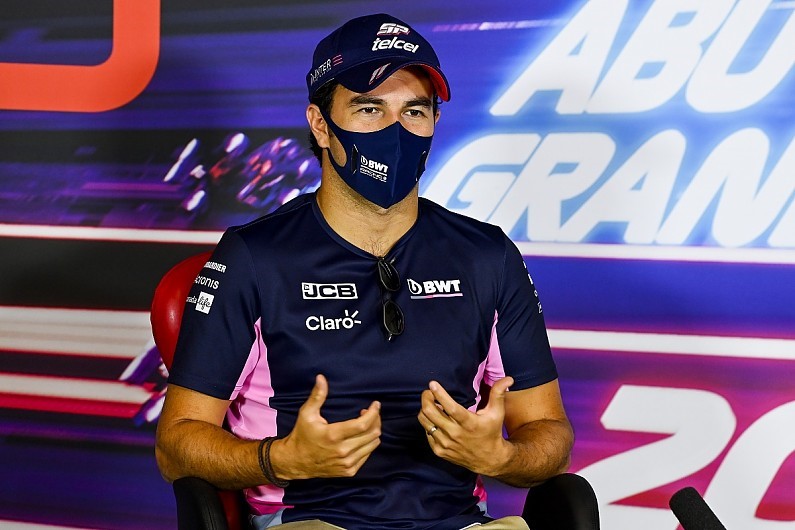 Perez and his future uncertain in the 2021 season
In terms of the team, Ferrari has not won a single victory here. This return, which is seen as their "home field" but with current strength, there is a difficult chance for Ferrari to be successful in the same way that Perez had in the last Bahain race. last week.
Another feature that is quite attractive is that in Abu Dhabi the riders will start at sunset (17:10 local time) and the race will end in the light of high-pressure lights, which makes the racers excited. and they also need to focus on their part as much as possible.
Pirelli will deliver the C3-C4-C5 tire combo in the Yas Marina Circuit race, Who will be the racer with the winner in the final race of the season. Hamilton, Bottas, Verstappen, … familiar names, or will it be some other name on the podium, Yas Marina is the last battle of the season, and when the competition is no longer too fierce, everything both can happen.
Watch race day according to Vietnam time, qualifying race: 20:00 Saturday 12/12, race day: 20h10 Sunday, December 13.
Predict 5 riders who are likely to win the pole:
1. Hamilton
2. Bottas
3. Verstappen
4. Perez
5. Ricciardo
Predict 5 riders who are likely to win the stage:
1. Hamilton
2. Bottas
3. Verstappen
4. Perez
5. Sainz
Source: http: //danviet.vn/dua-xe-f1-abu-dhabi-gp-tran-chien-cuoi-cung-khep-lai-mua-giai-khac-nghiet-5020 …Source: http://danviet.vn/dua-xe-f1-abu-dhabi-gp-tran-chien-cuoi-cung-khep-lai-mua-giai-khac-nghiet-5020201212596797.htm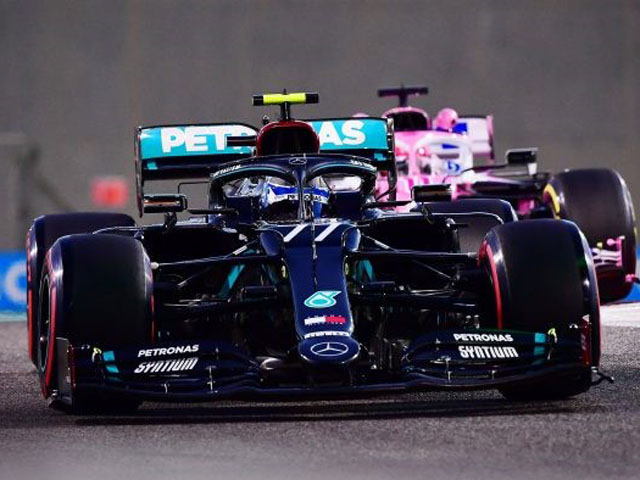 (Sports news – F1 racing news) The final stage in the 2020 season – Abu Dhabi GP has officially kicked off with two sessions …
.