(Sports News, Tennis News) Novak Djokovic shared interestingly after he just came back from defeating Daniil Medvedev to win his 6th Paris Masters and surpassed Rafael Nadal to set a record of owning 37 ATP Masters titles. 1000.

Video of the trophy presentation ceremony for Novak Djokovic after this year's Paris Masters final with Daniil Medvedev: True to the expectations of many fans, the Paris Masters 2021 men's singles final last night on November 7 (Vietnam time) took place attractively when after 2 hours and 16 minutes, the No. Djokovic just won against second seed Daniil Medvedev 4-6, 6-3, 6-3.
Medvedev can't win the second year in a row Paris Masters, while Djokovic has a sweet "revenge"
The recent results on the Center Court at the Accor Arena tennis complex helped Nole set a double record with the sixth time winning this tournament and also surpassed the great rival Rafael Nadal to become the first player in history to win the title. 37 ATP Masters 1000 titles.
The championship at the Paris Masters 2021 also helped Djokovic forget the pain of a bitter defeat against Daniil Medvedev himself after 3 sets with the same score of 4-6 in the US Open final 2 months ago in New York (USA).
Nole hugs her two children, baby Stefan and baby Tara after finishing the final in Paris last night
Speaking on the Tennis Channel after winning a record 37 ATP Masters 1000 titles, Djokovic said: "I watched the US Open final to see what I did wrong and what I did right. I tried to read his serve patterns (Medvedev) and the way he threw the ball on the ground, maybe."
"I tried to pay attention to the little details because success in a match can be a combination of them. He got in better, broke my serve, but I'm back."
Nole continued: "He served the first serve quite comfortably, but I felt like I was slowly getting into the game. I think it was just a matter of time when I read his serves and started making some good plays."
"You can't be impatient to get past Daniil. You have to find a way to play with the desire to win but also control the situation and play to your best. Good shots at the right time will help you counter him. It's the variety of play that has helped me win games with him. We both have to overcome difficulties on the pitch and physical fatigue."
Djokovic overtakes Nadal to monopolize 37 ATP Masters 1000 men's singles titles
Winning the Paris Masters championship for the 6th time in his career, Djokovic is aiming to be crowned at the ATP Finals 2021, this tournament is about to take place from November 14-21 in Turin (Italy) to equal the record of 6 titles. King at the playground gathering the best 8 male tennis players of the year like Roger Federer.
The 34-year-old Serbian said: "Yes, I love breaking records. I have a lot of motivation to keep striving. My preference is the Grand Slam and ATP Masters 1000 tournaments, where you can get the biggest score. This is an added benefit to our sport."
Meanwhile, Daniil Medvedev shared after being turned into a former Paris Masters king by Djokovic: "I need a little more time to think about the last match. I don't think there was a real turning point in that game."
"I could have handled the serve better. I took some important points in set 1, but he played better in set 2 and set 3. I still had a good game against one of the best players in history, who I always want to beat," said the Russian tennis player.
Source: https://tcdulichtphcm.vn/the-thao/djokovic-vo-dich-paris-masters-am-ky-luc-kep-lo-bi-quyet-phuc-…Source: https://tcdulichtphcm.vn/the-thao/djokovic-vo-dich-paris-masters-am-ky-luc-kep-lo-bi-quyet-phuc-han-medvedev-c28a19256.html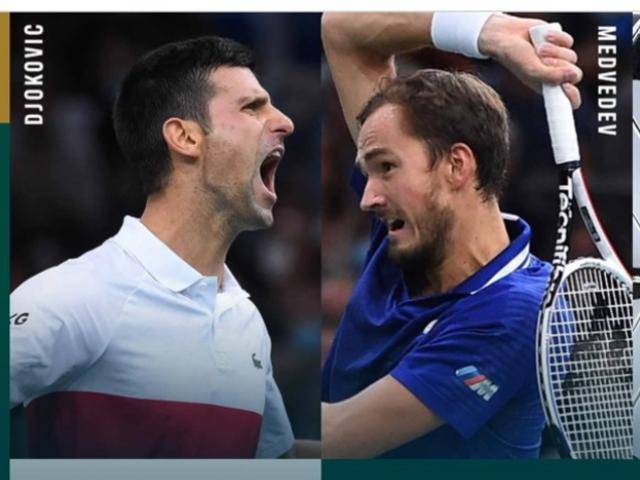 (Tennis video, tennis results, Novak Djokovic – Daniil Medvedev, men's singles final of Paris Masters) After 3 intense sets, a star…
According to Dang Duc (Collected from ATP Tour & Tennis World USA) (Ho Chi Minh City Tourism Magazine)
.