(Sports news, tennis news) After the scandal of being expelled from Australia, Novak Djokovic was again dug up by the media about the past.

Australian Open 2022 is approaching, it is likely that the tournament will not have the presence of the biggest star Novak Djokovic. Nole became the focus in Australia during the past few days, the fans wanted him to enter and compete in Australia, but the audience, the people of the host country wanted the opposite.
Nole was once suspected of cheating with his wife
Because he has not been vaccinated, the 34-year-old Serbian tennis player is temporarily "under house arrest" in Australia. Having been granted a medical exemption by the organizers, the possibility that Nole will be deported from Australia because she has not received 2 doses of the vaccine is very large.
Facing a somewhat rigid stance on vaccines, Nole is in a situation he has never encountered while competing abroad. The greatest tennis player of the Australian Open with 9 championships but is being treated like an illegal immigrant when entering Australia.
On this occasion, The Sun (UK) summarizes the scandals of Serbian tennis players in the past to attract readers.
Rumors of cheating on his wife
Djokovic has been married to childhood sweetheart Jelena since 2014 and the couple has two children; Stefan, seven, and Tara four. But their relationship is not always smooth sailing.
In 2019, there were rumors that the couple was about to split, because Jelena did not support any of Nole's matches at Wimbledon.
The couple insist this is because their daughter Tara is too young to attend, but their 5th wedding anniversary on July 10 was also somber, in stark contrast to the previous year, when Jelena posted a romantic message on social networks: "Love, the man of my life".
Tennis expert John McEnroe in July 2017, attributed Djokovic's poor form to "marriage issues, related to family".
Novak was taken aback by the comments, but issued a polite response: "He has the right to say what he wants to say. I don't necessarily object. It's his right."
Having a relationship based on friendship with an ex-girlfriend
Djokovic has also been criticized for his friendships with other women, including Serbian pop star Natasha Bekvalac. Rumors of the couple being more than just friends began circulating in 2011, the two were seen in Ibiza during the same summer. Bekvalac has always denied any hint of an affair, but that still hasn't stopped the rumors.
Rumored to have an affair with ex-girlfriend Deepika Padukone
Djokovic was also later rumored to have an affair with Lady Lee, Serbia's highest-paid female DJ, whose real name is Lidija Popovic. However, the DJ quickly denied rumors related to Djokovic.
Djokovic has been spotted in a relationship with Bollywood actress Deepika Padukone, better known as Dippy, who were spotted together in March 2016 while leaving The Nice Guy bar in Los Angeles in a car. black, with driver. Djokovic then explains that Dippy is friends with his wife, even though Jelena isn't there.
Faith weird about health
Djokovic often says some strange things about his faith in health. For example, in 2010, he claimed to have self-diagnosed a wheat allergy by pressing a slice of bread to his stomach. In 2016, he started working with Spanish coach Pepe Imaz, a big believer in meditation and the power of tree hugging.
Having strange beliefs in superstitions
When Djokovic suffered from elbow problems in 2017, he treated him in a variety of ways and ultimately had to opt for conventional surgery. The world number 1 tennis player had to cry because of his failure to solve the problem through natural medicine.
Djokovic has always been a strong believer in the use of hyperbaric chambers – where his body is exposed to pure oxygen at much higher pressures than normal, and he has carried the mobile engine room on the truck. while attending the US Open 2017.
But since the pandemic began, Djokovic's unusual convictions have come to the fore. Last year, he participated in Instagram live feeds with his friend, self-styled hedge fund dealer Chervin Jafarieh.
Djokovic expressed his opinion frankly: "Personally, I am against vaccination and I do not want to be forced by someone to get vaccinated to be able to travel."
Tactic to go to the toilet "meditate"
Stefanos Tsitsipas is strongly criticized in 2021 for using the toilet tactic, but Novak Djokovic is the "boss" of this tactic.
Constantly arguing with the umpire
A Wall Street Journal analysis surveyed and reported that Djokovic has been off the toilet during matches at major tournaments since 2013.
That gives Djokovic, who has won 78.6% of his career Grand Slam matches, a success rate of 83.3% after each toilet visit.
Aggressive with the umpire
Djokovic is famous for being a hot-tempered tennis player, he has repeatedly had extreme actions on the court and quarreled with the referees.
Hot temper accidentally hit the ball on the referee's neck
At the 2020 Rome Open, he "screamed" into the referee's chair when playing against Taylor Fritz, lamenting that he still allowed the match to go on despite the rain.
In 2020, Djokovic was disqualified from the US Open after hitting umpire Laura Clark. Although this was just an accident, it stemmed from Nole's hot temper.
Source: https://tcdulichtphcm.vn/the-thao/djokovic-bi-dao-xoi-chuyen-qua-khu-tin-don-lua-doi-vo-gay-han-…Source: https://tcdulichtphcm.vn/the-thao/djokovic-bi-dao-xoi-chuyen-qua-khu-tin-don-lua-doi-vo-gay-han-trong-tai-c28a23376.html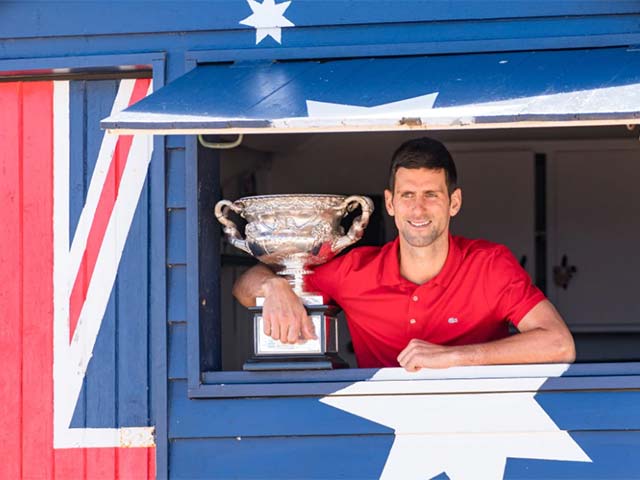 (Tennis news) Serbian hero Djokovic is in a "war" in Australia, a land that has also honored him…
According to the National Assembly (Ho Chi Minh City Tourism Magazine)
.