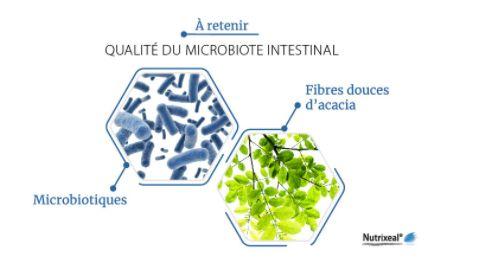 The digestive system comprises a set of complex mechanisms with a fragile balance, which it is nevertheless important to maintain in good health because failures can impact many aspects of our metabolism. A diversified and balanced diet is of course an essential condition for the proper functioning of our digestive system. However, nearly half of the population says they are affected by digestive disorders.
Whether it is to optimize our bacterial flora, to compensate for dietary excesses or enzyme deficits, certain nutraceuticals can provide real support to your digestive system. Nutrixeal presents these optimized natural products beneficial for our intestinal health.
How to take care of our digestive system?
Our digestive system, mainly in the small intestine and colon, is home to hundreds of billions of non-pathogenic microorganisms that make up what is called the gut microbiota. The health of this microbiota is essential for our digestive system to perform its various functions. However, this microflora is based on a fragile balance, which is often damaged.
Can we strengthen this beneficial bacterial population?
Consuming lacto-fermented products (sauerkraut, yogurt, etc.) can be beneficial for your digestive system, as can a diet rich in fiber. These bacterial populations, in particular the very large ones in the colon, in fact feed on dietary fibers undigested by digestive enzymes. For a nutraceutical intake, it is advisable to favor soft fibers, for example acacia fibers, metabolized very slowly.
Note also that microbiotic products exist in supplementation. These are living microorganisms, the strains of which correspond to bacteria naturally present in the human intestinal microbiota. In the event of depletion of the microbiota, this type of supplementation can be of significant interest in rebuilding the flora.
Advice from our experts
When opting for supplementation with microbiotics, it is essential to select a suitable galenic, guaranteeing the protection of microorganisms. Thus, the Nutrixeal laboratory uses, for its range of Probiopur® products, a patented double micro-encapsulation system which allows microorganisms to survive before ingestion (during the manufacture of the product and its storage) but also after ingestion, during the route through the gastrointestinal tract to reach the intended portion of the intestine. The products in the Probiopur® range are also symbiotics, that is to say they also provide a supply of soft fibers.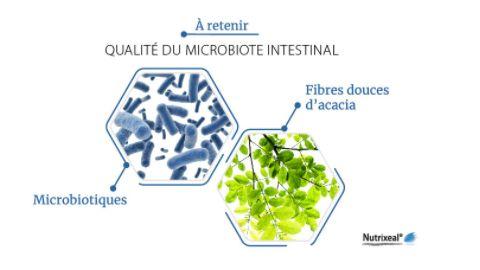 Can we preserve this intestinal flora from pathogenic bacteria?
Depletion of beneficial microflora allows other microorganisms (yeasts or harmful bacteria) to thrive in our digestive system. Several plants, rich in specific active ingredients, have been proven to limit this phenomenon.
Olive leaves are, for example, rich in oleuropein, a molecule which has in particular been studied for its effect on certain yeasts. Olive leaf extracts are also recognized for their contribution to the functions of the intestinal tract. Grapefruit seed extracts (EPP) are another example of an active ingredient that contributes to the microbial balance of organs and tissues.
Opt for a synergistic supplementation with the product Candidapur®!
To allow you to benefit from the benefits of these plants useful for our microbiota, the Nutrixeal laboratory has formulated a phytonutritional complex specifically dedicated to microbial balance. The product Candidapur® in fact brings together for your digestive system:
An olive leaf extract highly concentrated in active ingredients (30% oleuropein and 10% pentacyclic triterpenes).
A concentrated grapefruit seed extract standardized to 45% bioflavonoids.
An extract of the inner bark of lapacho, a tree native to Brazil that has an incredible ability to fight against fungi present in this region.
Caprylic acid from coconut.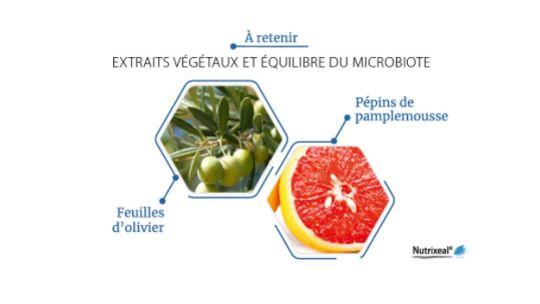 Strengthening digestive functions: which nutraceuticals to choose?
The primary function of the gastrointestinal system is obviously the digestion of food and the assimilation of nutrients. This process involves a mechanical action in the mouth and stomach (chewing and stirring) and a so-called chemical action, via digestive enzymes. It ultimately allows the assimilation of molecules through the intestinal wall.
In the event of a too rich meal or an enzymatic deficiency for example, it happens that certain macromolecules coming from our food are not completely digested by the enzymes. This type of digestive disorder can reduce the nutritional intake that is essential for our metabolism. It can also cause various symptoms, more or less substantial, such as transit irregularities, pain, bloating, etc.
How can we support our digestive enzymes in their digestion work?
Different digestive enzymes, each with a specific action, can be added as a supplement.
Lactase, for example, is the enzyme capable of digesting lactose. External lactase intake has been shown to improve lactose digestion in people who have difficulty digesting it. However, this type of intake meets specific needs, when a specific situation risks causing difficult digestion. It should not be used as a substitute for an adapted diet.
It should also be noted that certain minerals have a beneficial effect on digestive enzymes, and more generally on the functioning of the digestive system. This is particularly the case with calcium which contributes to the normal functioning of digestive enzymes. Calcium intake is therefore often complementary to enzyme supplementation. Calcium is also an alkalizing mineral particularly suitable for acidic soils and imbalances in the acid-base balance of the digestive system.
Advice from our experts
For digestive enzyme supplementation, it is important to clearly identify your needs in order to choose a suitable nutraceutical product. Certain products indeed allow a diversified contribution for a global action on different types of molecules. This is particularly the case for Nutrixeal Ultrazym® (in capsules) and Digestenzym® (in lozenges). Other nutraceuticals make it possible to supplement for a particular enzyme, with a targeted action, as in the case of lactase.
For a synergistic supply of calcium, favor the product AcidoCalm®, which allows both an alkalizing action thanks to calcium carbonate and a digestive reinforcement, with enzymes with a broad spectrum of action.
Faced with digestive or hepatic failure, how to detoxify the body?
During poor metabolism of our food, the fermentation of undigested macromolecules can generate toxins and intestinal gas. Some of these macromolecules also manage to pass the intestinal barrier. A failure of our digestive system can then lead to engorgement of the liver. However, the latter performs an essential function of detoxifying the body. Fortunately, different nutraceutical ingredients can provide considerable support for these detoxifying functions.
Which nutraceutical to choose to purify the intestines?
Activated vegetable charcoal is particularly recognized for its incredible absorption capacity. Consumed as a supplement, it helps trap toxins and intestinal gas, and thus helps relieve bloating and flatulence. The molecules absorbed by the activated charcoal are eliminated from the body.
Which nutraceuticals to choose to support the liver's detoxifying functions?
Many herbs are known to support liver function and help it effectively detoxify the body.
Milk thistle (Silybum marianum) in particular contributes to liver health, liver protection and its detoxifying power. Its effectiveness is based on its richness in silymarin, and in particular in silybin. An effective supplementation must therefore be concentrated and standardized for these specific active ingredients of the plant.
Among the plants useful for the hepatic sphere, one can also quote the dandelion which supports the functions of elimination of the organism (renal elimination, urinary function, detoxification, drainage).
Finally, the Desmodium adscendens plant promotes the functioning of the liver and acts as a hepatic drainer, in particular thanks to its richness in saponins.
For better efficiency, select concentrated nutraceutical extracts!
The Nutrixeal laboratory has formulated a specific complex to support the body's detoxification functions. The Detoxea® product indeed contains an extract of milk thistle ultra-concentrated in active ingredients, whose action is reinforced by extracts of dandelion and black radish.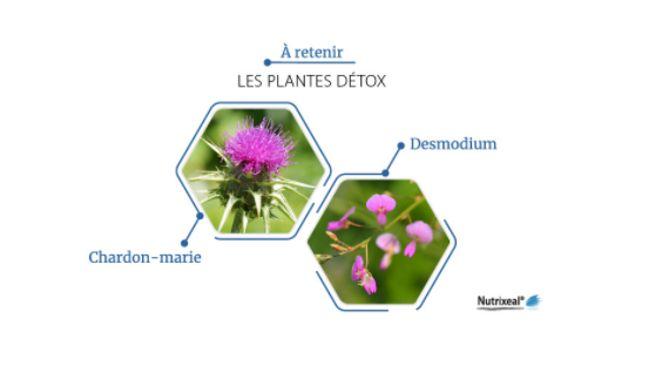 Opinion and conclusion of Nutrixeal on the benefits of nutraceutical active ingredients dedicated to the digestive and hepatic sphere
The digestive system is a real pillar of our body. It of course plays a major role in our energy metabolism, by allowing the assimilation of nutrients from our food. But its functions do not end there!
As a zone of contact with the external environment, the gastrointestinal tract is one of our body's first lines of defense against pathogens. Good digestive system health is therefore essential for strengthen our immune defenses.
Numerous studies have more broadly demonstrated that the balance of our microbiota influences very diverse functions of our organism. The nutraceuticals in the spotlight in this article can therefore provide real support for our digestive functions, but also more broadly protect our overall health on a daily basis.
---
Content designed and offered by Nutrixeal. The editorial staff of Le Figaro did not participate in the production of this article.
---
.