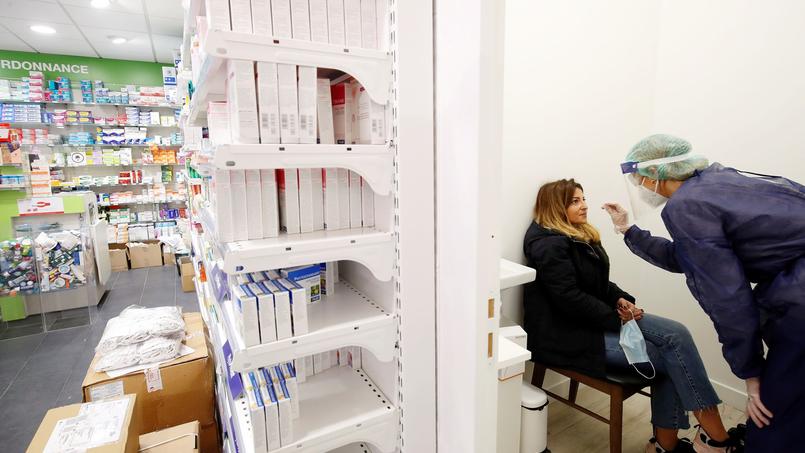 As of November 18, there are 50 different antigenic tests available in France. The population that can benefit from it has been enlarged.
On Tuesday November 17, the daily number of people positive for Covid-19 jumped dramatically, to 45,522 positive cases against 9,406 the day before. This is not, however, a major epidemic recovery… but a computer catching-up! This last count indeed integrates for the first time the results of rapid antigenic tests authorized in France since October, that is to say 32,935 positive cases, specifies Public Health France (this figure is thus added to the 12,587 cases identified Tuesday by PCR tests "traditional" ).
»READ ALSO – Antigenic tests: how doctors, pharmacists and nurses organize themselves
Since pharmacies obtained the right to perform these rapid tests in mid-October, their number has continued to increase: 107 positive cases recorded the week of October 19, 2,534 the following week, then 8,691 for the first week of November, etc.
After this hiccup on statistics, there should be no more aberrations in the census. Accounting will be daily. Pharmacists, nurses and doctors have since the start of the week the right to fill in the results of rapid tests directly in the national SI-DEP database (National Population Screening Information System), alongside positive cases. PCR tests carried out by biologists. It is even an obligation since it is the sine qua non so that city health professionals can be paid for carrying out these tests, specifies a document from the Ministry of Health and the AP-HP.
»READ ALSO – The manufacturers of antigenic tests in order of battle
As of November 18, there are 50 different antigenic tests available in France. The population that can benefit from it has been enlarged. People over 65 and those with a comorbid factor (hypertension, diabetes, etc.) now have the right to have an antigen test, provided that symptoms have been declared for less than four days. But the result can only be validated if it is positive. The risk of false negative is indeed too great. In the event of a negative test, people at risk should be referred to their doctor. Otherwise, they are advised to verify this diagnosis with a PCR test. Contact cases remain "prohibited" from rapid testing because of the unreliability of negative results.
155,000 antigenic tests carried out in pharmacies
Currently, rapid tests are carried out free of charge in some 6,000 pharmacies in France, but almost half "22,000 pharmacies should offer them in early December", indicates Bruno Maleine, president of the Order of pharmacists in Île-de-France. In total, around 155,000 antigenic tests have already been carried out in pharmacies, which makes it possible to estimate their positivity rate at around 22%. In addition, "550,000 antigenic tests were distributed to health professionals, including 166,000 to doctors", adds Bruno Maleine. Nurses and town doctors can request a box of 25 tests each day without paying anything, pharmacists then being reimbursed directly by Medicare.
.