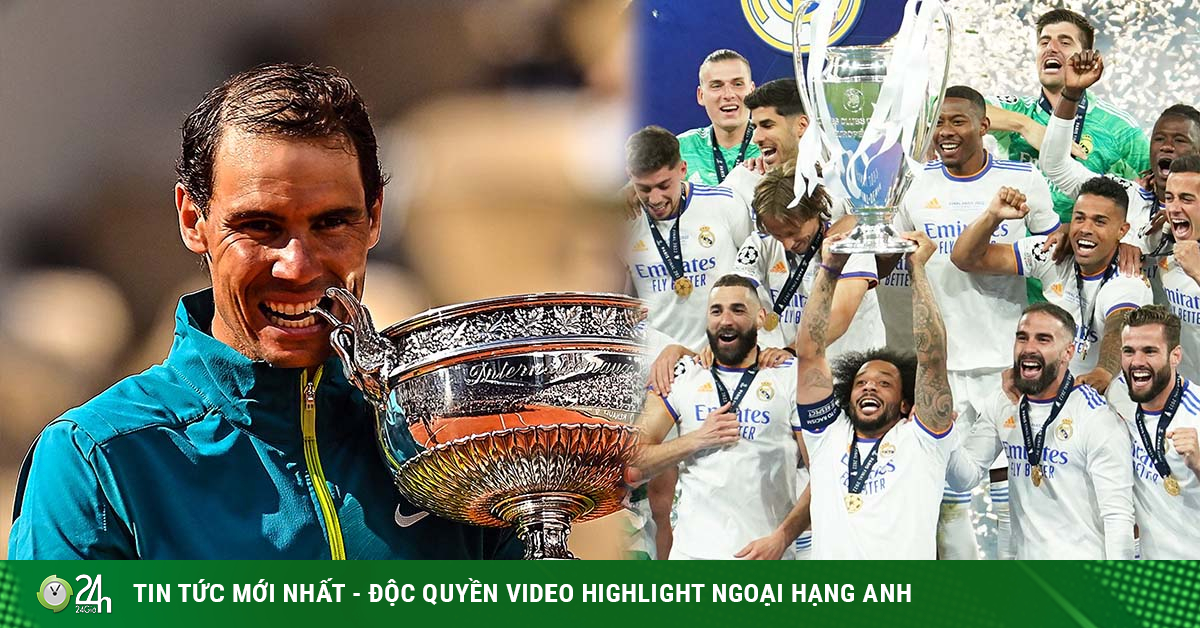 Rafael Nadal has equaled Real Madrid's record of Champions League wins with his 14th Roland Garros title.

Real Madrid and Nadal win together in Paris in just 1 week: Nadal and Real Madrid are two of the most prominent names in Spanish sports. The "King of Clay" is a tennis legend, while "Los Blancos" is the most successful football club in Europe. And yet, Nadal is also a Madridista (nickname of Real Madrid fans) and an honorary member of the Spanish Royal team.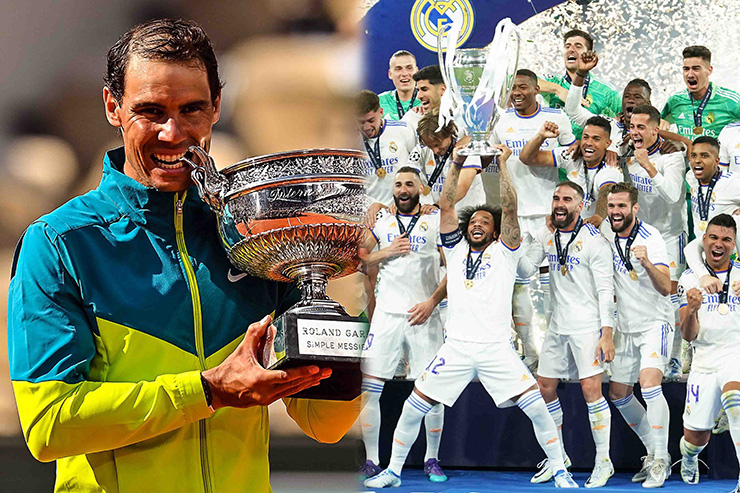 Nadal equals Real Madrid's 14 Champions League titles with 14th Roland Garros title
On the evening of June 5, Nadal could not hold back his tears after defeating Norwegian opponent Casper Ruud with a score of 6-3, 6-3, 6-0 in the final to take the 14th crown at the World Cup. Roland Garros. The championship in Paris helped Nadal raise his Grand Slam men's singles record to 22, two more titles than Roger Federer and Novak Djokovic.
According to statistics, Nadal has won 112 of 115 clay court matches in Paris, achieving a win rate of up to 97.4%. After winning the Australian Open in January, Nadal has won two consecutive Grand Slam titles for the first time since 2010, when he won Roland Garros, Wimbledon and the US Open in a row.
Two days after his 36th birthday, Nadal became the oldest Roland Garros champion, surpassing his compatriot Andres Gimeno, who won the Grand Slam on clay at the age of 34 in 1972.
Coincidentally, 14 is also Real Madrid's number of Champions League titles. A week earlier, in Paris, "Los Blancos" had beaten Liverpool 1-0 in the final. That day, Nadal was present in the stands of the Stade De France to cheer and witness the moment his favorite team was crowned, before entering the fourth round of Roland Garros.
Nadal cheers for Real Madrid in the Champions League final during his time at Roland Garros
Few people know that Nadal's uncle Miguel Angel is a Barcelona legend with more than 200 appearances, winning 5 La Liga titles as well as the European Cup (the precursor to the Champions League) in 1992. used to work closely with coach Pep Guardiola of Man City. Even Nadal used to wear Barcelona's home shirt to the field with his uncle.
Nadal explained: "As everyone knows, Real and Barca are two arch-rivals in world football. Why am I a Real fan? Just simple. Because of my dad, that gives you a measure of his influence on me as a person."
In his autobiography, Nadal revealed that he would wake up at any hour, wherever he was in the world, to watch Real Madrid matches even if he was on the field that day.
"And I will build up my training schedule during the day so that it is convenient to watch Real Madrid play, if needed, in addition to time spent on matches. I'm a fanatic," added Nadal.
As a child, Nadal dreamed of becoming a soccer player. Nadal admits that he feels more nervous before Real Madrid's matches than his own. That is enough to see how great the love that Nadal has for the Royal Spanish team.
Source: https://tcdulichtphcm.vn/the-thao/34vua-dat-nen34-nadal-la-fan-cuong-cua-34vua-chau-au34-real-ma…Source: https://tcdulichtphcm.vn/the-thao/34vua-dat-nen34-nadal-la-fan-cuong-cua-34vua-chau-au34-real-madrid-so-14-ky-dieu-o- paris-c28a33114.html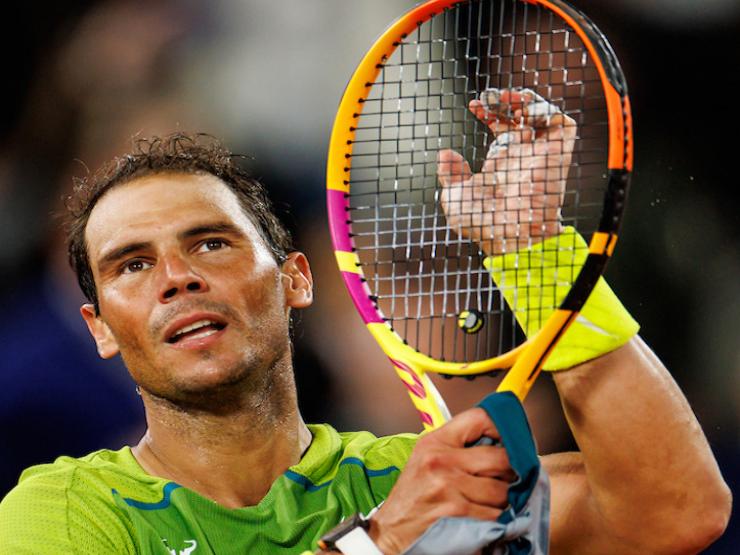 (Sports news, tennis news) The audience is afraid that Rafael Nadal will retire, but "Gaur" is still passionate and eager to fight.
According to Sy Anh (Ho Chi Minh City Tourism Magazine)
.