(Sports News) 11-year-old "Little Bruce" skillfully dances the stick, "Vietnamese Superman" runs 160 km at home or the lieutenant jumps from a 20m-high bridge to swim like Michael Phelps to save people are the characters that cause "fever". "Vietnamese sports in 2021.

11-year-old "little Bruce Lee" skillfully dances the stick
At the beginning of March 2021, on Vietnamese martial arts forums, a clip of a boy performing at the same time performing a nunchaku with two hands was extremely virtuosic. Looking at this boy's gentle moves in the air and then gently taking them, many people admired him, comparing him to the "little Bruce Lee" of the Vietnamese martial arts village.
"Little Bruce" 11 years old Duong Gia Huy
The main character in this clip is Duong Gia Huy (11 years old), son of "Vietnamese king of nunchaku", famous martial artist Duong Xuan Nghiem. Right from the age of 3, Gia Huy was acquainted with nunchaku and was once considered a phenomenon on social networks with clips of cone dancing attracting tens of thousands of views.
Now, Gia Huy's skills are becoming more and more mature and he is often invited to perform at martial arts programs, exchanges, or during Tet holidays. He is also loved by his gentle, friendly personality and is passionate about many other sports such as martial arts, swimming or chess.
"Vietnamese Superman" runs 160 km at home
At the end of August this year, running forums in Vietnam "wake up" because of the story of a man in Hanoi who ran 160 km on a treadmill at home continuously for more than 17 hours. . His tenacity, steel spirit and remarkable achievements are compared to the community as "The Superhero of the running village of the country".
"Superman" Nguyen Dang Trung runs 160km continuously at home for more than 17 hours
According to research, this person is Nguyen Dang Trung, a famous name in the running movement in Vietnam, who has participated in many prestigious domestic and international races. Due to not being able to participate in the prestigious 2020 UTMB trail running in France despite his efforts to accumulate enough points, Trung decided to take on this "unique" challenge.
It is known that Mr. Trung started the challenge from 11 pm on August 27 and finished the 160 km long run in 17 hours and 18 minutes. During the journey of running on the machine, Trung broadcasted live on his personal page and received enthusiastic cheers and interactions from friends and a large number of fans.
Overcoming difficulties, including cramps and exhaustion, Trung achieved his goal in the admiration of everyone.
The lieutenant jumped from the 20m high bridge, swam like Michael Phelps to save people
At the end of September 2021, a short clip recording the scene of a man in Ha Nam jumping from a 20m-high bridge into the river and swimming extremely fast to save a drowning woman was widely shared on social networks. In addition to praise for his brave action, this man also received many admiration for his fast and beautiful swimming skills, no different from professional athletes.
Lieutenant Ngo Van Thu swims like "Michael Phelps" to save people
This clip quickly "covered" on swimming forums and received countless compliments from even veteran swimmers. Some people even liken this to deserve to be considered "Michael Phelps" because of its ability to swim fast, good physical strength in fast-flowing river conditions, not to mention no protective gear or swimming goggles.
The main character in the clip is Senior Lieutenant Ngo Van Thu, a kitchen manager at the Office of the Military Command of Ha Nam Province. On the way home from work, crossing Chau Son bridge (Phu Ly city, Ha Nam province), Mr. Thu heard the shouting, saw someone struggling because of drowning, and without thinking, bravely jumped into the Nhue River. and save lives in time.
Source: https://tcdulichtphcm.vn/the-thao/gay-sot-the-thao-2021-ly-tieu-long-11-tuoi-thuong-uy-nhay-xuon…Source: https://tcdulichtphcm.vn/the-thao/gay-sot-the-thao-2021-ly-tieu-long-11-tuoi-thuong-uy-nhay-xuong-song-cuu-nguoi-c28a22390. html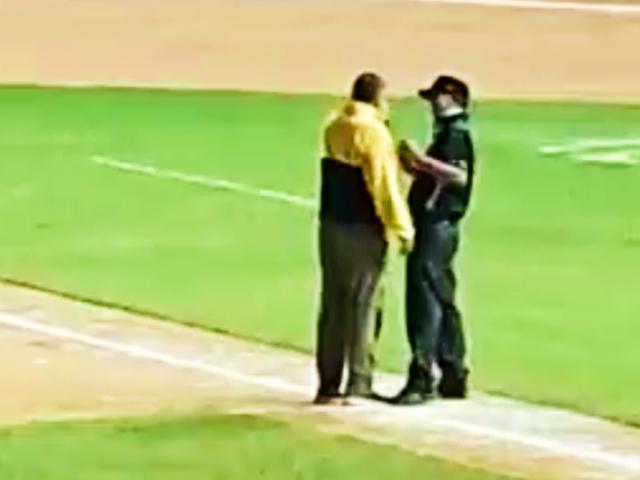 (Sports news, behind-the-scenes news) Bad players get a red card by the referee, so who should handle it if the referee is not right?
According to Le Phong (Ho Chi Minh City Tourism Magazine)
.