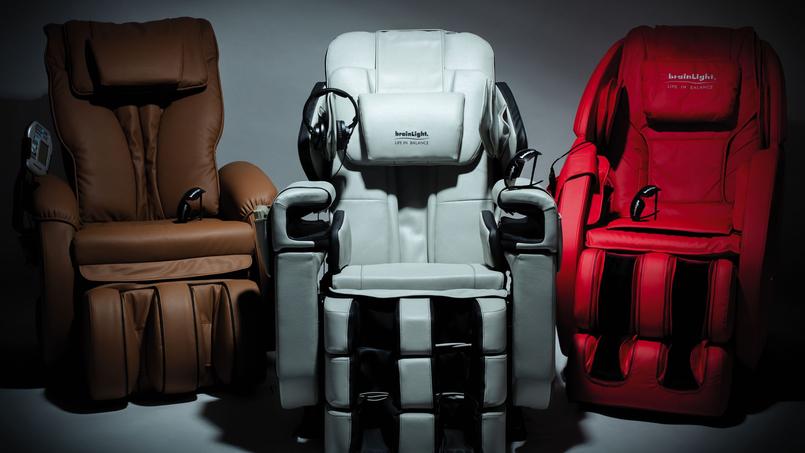 Managing stress at work and improving the quality of life are at the heart of brainLight's concerns. Unique in France, these relaxation systems are designed to reduce stress and display a positive attitude on a daily basis.
brainLight in France
From Germany, brainLight relaxation methods have been established in France thanks to Claudia Studle, president of BSB. Combining a Shiatsu massage chair with visual and auditory stimulation, these methods promise unique relaxation. These stimulations are made possible thanks to glasses with light pulses coupled with a soft voice, music as well as variable and stable frequencies. The innovation notably involves the addition of frequencies which allow the equilibration of the two parts of the brain. These methods were created by neuroscientists who have extensively studied the effects of frequencies on the brain, with a promise of positive effects fulfilled.
Official and unique brainLight reseller, BSB is aimed at companies and individuals alike and seeks to enrich its reseller network in order to reach different sectors. Indeed, brainLight methods can be offered in companies for employees, in the hotel sector, but also in health. The objective is that the work environment of each employee is not a place associated with stress and overwork. When integrating into the company, the employees felt a marked reduction in stress and adopted a more positive attitude towards their work. But these relaxation methods do not stop at the world of work, individuals are just as concerned. In order to test these systems, a showroom has been set up in Strasbourg to meet the general public. All you have to do is reserve your place to come back convinced. But in case of hesitation, it is possible to request a service for his company; brainLight travels one day so that each employee can give their opinion. Whether it is the purchase, the service or the rental, everything can be considered, the objective being to bring well-being to everyone.
Well-being above all
Studies on the quality of work life are seldom good. brainLight thus aspires to bring well-being to its employees through three methods combined and implemented by professionals. This system, medically certified, allows from the first use to attest the effects: a deep relaxation of only 5 to 10 minutes is equivalent to about 2 hours of sleep, as well as a notable reduction in stress. These effects are not negligible and become established as soon as the sessions are repeated. From the next five, the effects are noticeable on everyday life and no longer on just the moment: more calm and serenity in everyday life, a strengthening of resistance to stress, but also an improvement in the clarity of the body. spirit and increased well-being. In the long term, this resistance to stress will be associated with a greater ability to concentrate, as well as improved performance in many areas, better memory and a more lively reaction capacity.
brainLight initially capitalized on the workplace, a real source of stress for employees. The idea was to make it a pleasant place synonymous with well-being. This is why brainLight provides its customers with interior designers capable of creating rest areas. If one of the employees wishes to acquire a brainLight system for his employees' breaks, but does not have space to install it, the architect will intervene to redraw the office plans. Allowing a 10-minute break per day on a brainLight system is enough to relax and de-stress employees. These bubbles of relaxation, more and more common in companies, offer employees a moment of decompression necessary in order to be more efficient.
A unique and recognized innovation
In addition to being unique in France and present in Germany for more than 30 years, brainLight has globally recognized partners such as Apple, BMW and Microsoft. It is therefore not surprising that they have won more than ten awards since 2015. Rewarded six times by the Plus X Award, brainLight has therefore become one of the most popular brands in previous years. periods of participation in the PLUS X Award.
In order to meet the needs of all ages and all populations, systems specially designed for seniors or even for children have been created. The goal is for everyone to feel good in their field, whatever it is, especially during difficult times. brainLight therefore lent its devices to hospitals during the health crisis to thank caregivers. The latter then benefited from better comfort in their difficult daily life. Conquered, hospitals are now gathering the funds to acquire the brainLight systems.
.