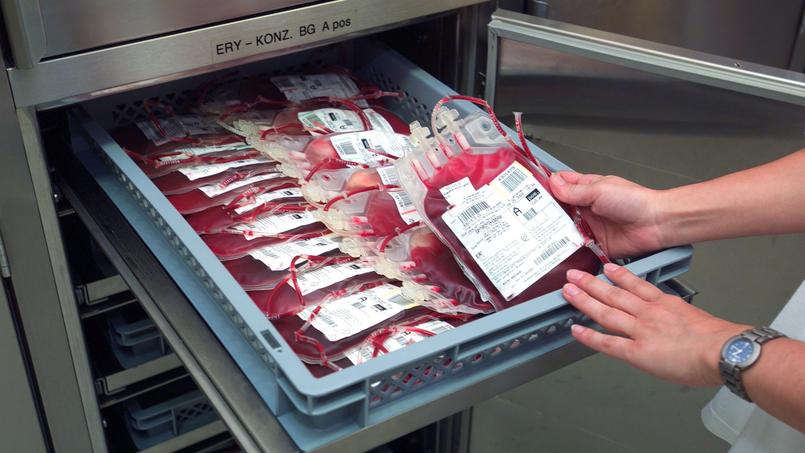 The blood drive has decreased significantly since March 16, and is only picking up with difficulty as the needs increase.
"We are today in an extremely worrying situation", today alerted François Toujas, president of the French Blood Establishment (EFS) during a press conference. "The reserves of blood products have never been so low in 10 years. We need to rebuild them, unless we are no longer able to take care of the sick. "
"READ ALSO -" General mobilization "for blood donation
The stock of blood bags available barely exceeds 82,000, where it is usually around 100,000. "The Covid-19 has deeply disrupted the blood drive", explains François Toujas. In particular, collections in educational establishments (9% of donations usually) and in companies (12%) are impacted in two ways, said the president of the EFS: on the one hand, health protocols have made their organization more complex and the managers of establishments more reluctant to welcome them; on the other hand, there are fewer students and employees, thanks to the development of online courses and teleworking. "Economic decision-makers must facilitate blood donation in their structures!"
"READ ALSO – Virological tests: analyzes of blood donations are pending
When containment was put in place in mid-March, detailed Hervé Meinrad, director of collection at the EFS, "We lost 50% of our collections in two days". Authorization of outings to donate blood led to "A strong influx" of donors for 3 to 4 weeks. But with the deconfinement, a significant drop in donations was again observed, which the usual communication campaign carried out before the summer did not really succeed in halting. In total, after March 16, the EFS thus collected 80% fewer blood bags in companies and 98% fewer at the University compared to 2019. However, if the needs have decreased during confinement, the hospital activity outside Covid being at half mast, "Today hospital activity is picking up sharply, which means an increase in demand for blood products in hospitals", alarmed François Toujas.
"READ ALSO – Cathy Bliem of the French Blood Establishment:" We must spread the donations over time "
"This is an unprecedented situation that questions our ability to deploy a new organization for collection", conceded the president of the EFS, specifying that other European countries are experiencing the same difficulties. The establishment is therefore working to reorganize its blood drives, for example with new fixed sites, and the generalization of online appointments to donate blood. "Blood donation is extremely important for one essential reason: in the vast majority of cases, there is no substitute product, yet these are products with a limited lifespan., insisted François Toujas. Giving an hour of your time to donate can save two or three lives. "
SEE ALSO – Coronavirus: in Toulouse, generous blood donors
.