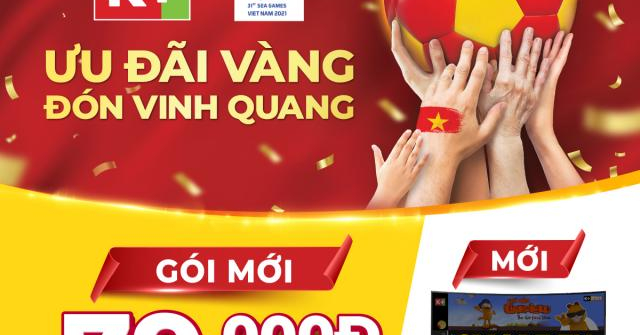 K+ TV has just launched a convenient subscription package of only VND 79,000/month with many privileges and golden incentive programs and launched the K+ App on Smart TV at the time of the most awaited Sports Festival in Southeast Asia. – SEA Games 31 is taking place. This is a great opportunity than ever for the audience to be "entertained" anytime, anywhere on any platform and device from Smart TV, computer to tablet, phone and even satellite TV. pure.

K+ launches a Convenience package of only VND 79,000/month, App K+ on Smart TV and gold incentives for audiences to enjoy sports events anytime, anywhere
Before the 31st SEA Games went into the most dramatic competition days, on May 5, K + Television "picked up the front", launched a new Convenience package of only VND 79,000/month, bringing "full of entertainment" with 152 special TV channels including all major domestic and foreign TV channels: HBO HD, PhimViet, VTV Channels, KIX, HTV2 – Vie Channel, TodayTV, Paramount channel, Boomerang; ON Football HD, ON Sports HD, HTV Sports channels; especially the privilege of enjoying two K+ brand channels (K+LIFE and K+KIDS) with exclusive entertainment programs and some Premier League matches.
K+ TV launches a new package of only 79,000 VND/month
In addition to the Convenience package, K+ Television also launched a Full package with 166 channels, including all channels in the Convenience package, the privilege of enjoying all 5 K+ exclusive channels including: K+SPORT1, K+SPORT2 , K+CINE, K+LIFE, K+KIDS and other interested and favorite channels. The Full Package meets all the entertainment needs of each family member, from top-notch sports to featured movies, attractive children's shows…
To celebrate the 31st SEA Games, K+ offers an unprecedented, attractive multi-platform golden offer: when customers buy App K+ on Smart TVs and mobile devices, they will immediately receive 1 month for free, apply for purchases. from 2 months; and customers who buy K+HD or K+TVBox satellite receivers only need 395,000 VND to get the full set of equipment (original price: 1,200,000 VND), apply for a new subscription from 3 months.
Not only that, App K+ on Smart TV has also been officially launched, meeting the expectations of many K+ TV viewers. From here, the entertainment space will be maximized on multiple devices, thereby helping spectators conveniently watch major sporting events anytime, anywhere. With an eye-catching interface, friendly features to watch Live TV and VOD, and simple registration, App K+ on Smart TV will bring great experiences on the big screen.
K+ is now available on Smart TV, expanding entertainment space on all devices
The most attractive opportunity to cheer SEA Games 31, watch dramatic matches in the world sports arena
This is the best opportunity for viewers to choose K+ TV to watch immediately the biggest festival of regional sports and favorite sports in the world.
Receiving the most attention is probably the Vietnam U23 team. Tel has opened the journey to defend the title of SEA Games men's soccer champion with a jubilant victory with a score of 3 – 0 against Indonesia U23 on May 6 and a goalless draw with U23 Philippines on May 8/ last 5. Tonight, May 13, teacher Park and his students will have to win the match against Myanmar U23 to have the right to decide before the final match against U23 Timor Leste.
Watch attractive matches of U23 Vietnam on K + channels
Along with men's football, a series of other SEA Games 31 sports such as diving, men's beach handball, kick-boxing, pencak silat, kurash also started in the early days of May, contributing to warming up. The exciting atmosphere of the 31st Southeast Asian Games. Vietnam sports delegation as the host and has a glorious history of continuously being in the top 3 finalists on the medal table from SEA. Games in 2003 up to now are receiving great expectations from fans.
In addition to hunting for K+'s gold incentives to cheer the Vietnamese team at the SEA Games, the audience will enjoy the days of "top-notch sports and entertainment" with fiery competitions across the world's sports arenas. world: The English Premier League with a dramatic point-by-point comparison in the championship race between Man City and Liverpool, the intense battle in London between Tottenham and Arsenal for the final ticket to the UEFA Champions League next season; Formula 1 racing with two familiar events: Formula 1 Pirelli Gran Premio De España 2022 (May 21 – 22 on K+SPORT2), Formula 1 Grand Prix De Monaco 2022 (May 28 – 29 on K+SPORT2) . Meanwhile, the Tennis ATP Masters 1000 – Internazionali BNL d'Italia (May 9 – 15 on K+SPORT2) promises to bring top matches on red dust courts with the participation of Rafael Nadal and Novak Djokovic. . At the same time, K+ audiences also don't miss the UFC events every Sunday morning and golf with the prestigious PGA Tour system…
This May, K+ continues to bring attractive exclusive sports tournaments to the audience
Hunting for K+'s golden offer here to cheer Vietnam on to receive glory at the 31st SEA Games and enjoy other exciting sports tournaments.
Source: http://danviet.vn/khan-gia-san-uu-dai-vang-tren-k-co-vu-viet-nam-don-vinh-quang-tai-sea-games-31…Source: http://danviet.vn/khan-gia-san-uu-dai-vang-tren-k-co-vu-viet-nam-don-vinh-quang-tai-sea-games-31-502022135135920304. htm
.