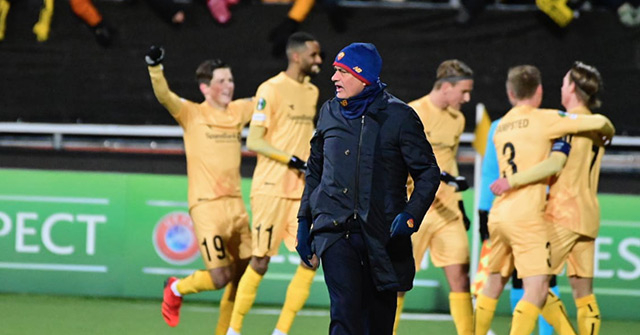 October 22, 2021 is a sad day in the career of the great coach Jose Mourinho. In the entire career of this coach, perhaps there has never been a time when he "lost" such a match. 03h00 on November 5 is an opportunity for the defeated army to take revenge on rival Bodo Glimt at the Stadio Olimpico home field. The match progress as well as the entire Europa Conference League tournament will be live and exclusively on FPT Play system.

AS Roma – Big team in mind… not big!
Jose Mourinho since coming to AS Roma has brought with him the football philosophy that he himself has developed for many years – the ability to play defensively and counter-attack. It was this football philosophy of coach Jose Mourinho that helped him bring Tottenham to the final of the League Cup, not a bad achievement with "Rooster".
AS Roma in the hands of Jose Mourinho is becoming fragile and weak when it comes to the European arena
However, this great coach will not always be a guarantee of success for the teams he leads. In the opening 2 matches of the UEFA Conference League 2021/2022, Jose Mourinho's team all had easy victories. However, if you look at it fairly, AS Roma did not kick the ball with the style of a top team. They actively give up the midfield to the opponent even though the opponents they meet are not strong attacking teams, compared to AS Roma. But rival Bodo Glimt is not just such a novice.
Botheim punished AS Roma's lousy defense with a performance worthy of 10
In the third series of the UEFA Conference League 2021/2022, AS Roma marched to the cold country of Norway and they did not expect that their opponent would give them so much shame. Bodo Glimt is the only team that AS Roma faces in Group C with an aggressive style of playing the ball. Even when the Italian representative had not shown much, the strikers of the Norwegian team Erik Botheim and Patrick Berg scored 2 early goals and made AS Roma break the match.
It can be said that Jose Mourinho's team has a great reputation, but they played a football that was petty, sporadic and not true to their position.
Jose Mourinho still has a chance to change!
In the rematch on November 5 here in Italy, Bodo Glimt will certainly still play his charming attacking football. They have no qualms with AS Roma. So, the question is, how will Jose Mourinho deal with that scenario? Whether he will spend a double attack on the opponent or continue to believe in his defensive and counter-attacking style.
That will not only be the question of AS Roma fans, of Jose Mourinho but of the whole football world. They look forward to seeing the image of a proud Special One with a dominant style of football will return and AS Roma will play with confidence. In fact, this would be a possibility because Mourinho's enormous self-esteem has been damaged and he will not allow himself to experience another defeat against Bodo Glimt.
Tammy Abraham needs another partner in the attack so that we can share the burden together
Instead of kicking 4-3-2-1 as usual, Mourinho will probably play 4-4-2 when he has the attacking duo of Abraham and El Shaarawy. Pulling El Shaarawy closer to the 16m50 area, AS Roma's midfield will have one more point to receive the ball and it will be much easier to coordinate with Abraham.
Besides, the 2nd line of this team also has Lorenzo Pellegrini who is always ready to handle situations when the ball pops out. Through 3 matches, this player has 3 goals for himself and coach Mourinho can completely rely on his midfield commander.
The match between AS Roma and Bodo Glimt will be broadcast at dawn on November 5. You and your friends can watch this match fully and exclusively on FPT Play's multi-platform television system. FPT Play is also the unit that fully owns the broadcasting rights of UEFA Champions League, UEFA Europa League, UEFA Europa Conference League in Vietnam. Sports fans in general and UEFA tournaments in particular can easily enjoy the matches in the Events section at: https://fptplay.vn/xem-truyen-hinh
Not only owning the top football tournaments in Europe, FPT Play is also the copyright holder of other popular sports tournaments such as World Cup 3rd Qualifier – Asia Region, Basketball Championship. Europe Turkish Airlines EuroLeague, Fighting Martial Arts (Bellator MMA, Professional Fighters League, King of Kings, Combate Global)….
Register now for Max, VIP or Sport service packages of FPT Play to enjoy all the popular sports tournaments on FPT Play. For more information, please contact hotline 19006600.
Source: http://danviet.vn/as-roma-bodo-glimt-lieu-co-bat-ngo-tap-2-den-tu-dai-dien-na-uy-502021411135905…Source: http://danviet.vn/as-roma-bodo-glimt-lieu-co-bat-ngo-tap-2-den-tu-dai-dien-na-uy-50202141113590552.htm
.