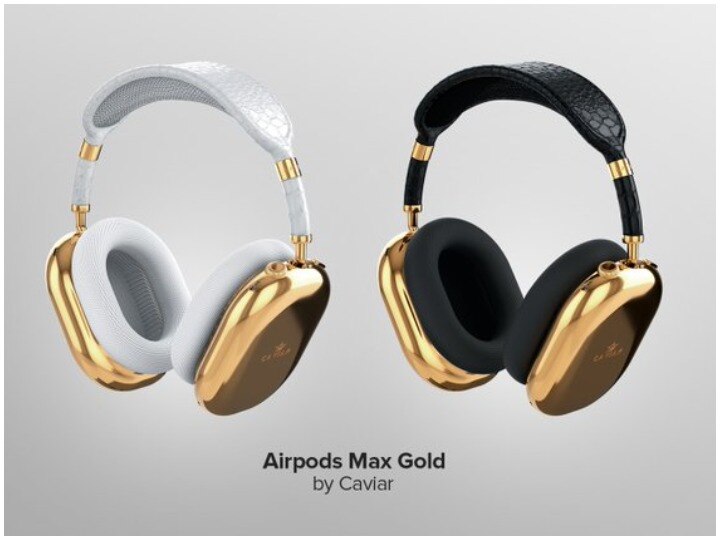 New Delhi Tech giant Apple products have always attracted customers. At the same time, the trend of customizing the original product and presenting it in a new look is also very much preferred nowadays. Recently the Russian luxury brand Caviar has announced that it will launch a custom version of the Apple AirPods Max.
Apple AirPods Max will be made of gold
According to the report of MacRumors, the customized AirPods Max will be launched in the new year 2021. It is being told that it will be launched in the market in two colors, black and white. At the same time, these Apple AirPods Max will be made for the customer after the order. Russian luxury brand Caviar is known for making luxury variants of popular tech products.
AirPods Max will be worth over a million dollars
Looking at the Caviar custom design of Apple AirPods Max, one can easily notice that the headphones can be very expensive due to the gold-plated headphones. The report states that the Apple AirPods Max custom variant of Caviar can be priced at US $ 108,000.
The design is made of pure gold
In a statement from the Caviar Group, it has been said that Apple AirPods Max has been designed with pure gold. Which makes him very attractive in the look. The company says that the customers' choice has been taken care of for it, while it has also been emphasized to be impeccable in any way. Earlier, Caviar also launched a custom iPhone 12 Pro version.
Read also:
Vivo Y20 smartphone launched with 4 cameras, Redmi 9 Power to compete directly
To celebrate New Year at home, buy these 5 cheap speakers, the party will be doubly fun.
.