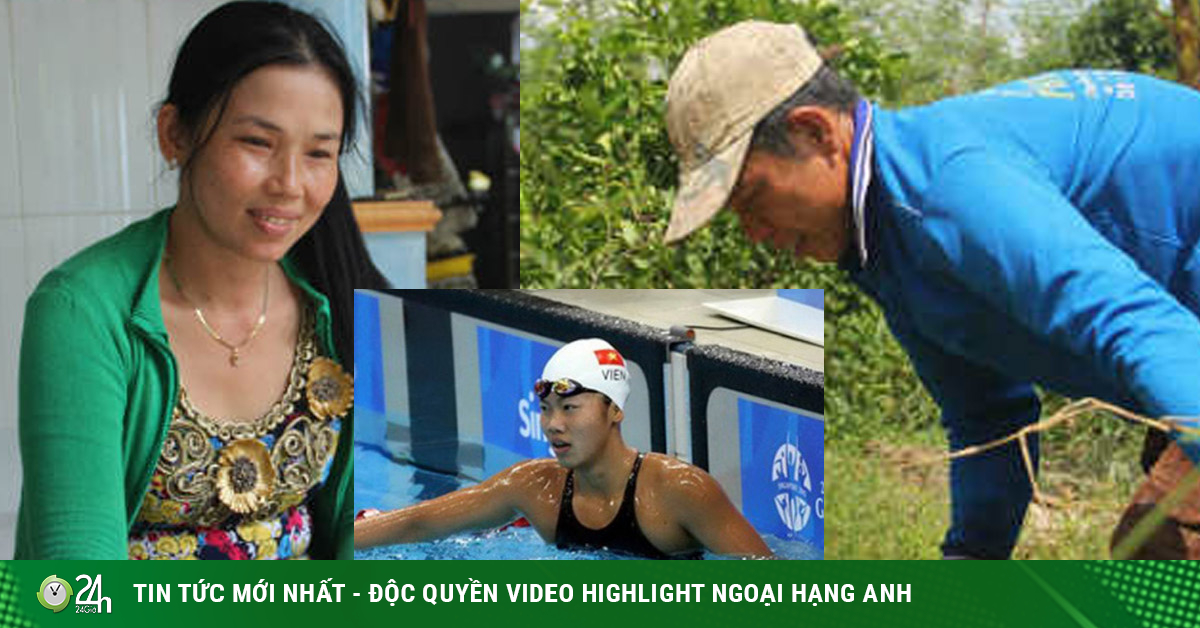 (Sports news, swimming news) Anh Vien's family said that no one was surprised by Anh Vien's decision to quit playing in the national team, even happy as well as looking forward to her daughter completing her studies. , get married soon in the near future.

In the past few days, the Vietnamese sports village has been buzzing with the news that Vietnam's No. 1 female "swimmer" Nguyen Thi Anh Vien has applied to leave the national team at the age of 24, even though she is currently in training to prepare for the upcoming competition. SEA Games 31 at the National Sports Training Center in Ho Chi Minh City.
Anh Vien's parents now just want their daughter to get rid of the pressure, be happy and get married soon
Talking to Mr. Nguyen Van Tac, Anh Vien's father at noon on October 10, Mr. Tac said that his family was not surprised by this decision of his daughter: "This is not the first time Anh Vien has asked for permission. I was on vacation with the national team and I also talked to my family during a visit home earlier this year.
Anh Vien said that she is no longer at the peak of her performance, long-term training will cost the state money, and Anh Vien personally also misses more time to study.
Anh Vien hopes to invest that expense in juniors. At first, I also advised her to stay at the 31st SEA Games and then take a break. But after listening to my daughter's sharing, my whole family supported the decision to resign and hoped to be accepted by the leader", Mr. Tac added.
Tac shared that his daughter confided in her family a lot before making a decision
Especially, according to Anh Vien's parents, the family's biggest wish now is for her daughter to get rid of the pressure of achievement in order to complete her studies and get married soon: "The past few days, we've all been watching. news about this incident and also very worried about her daughter. I don't want my daughter to be pressured, not happy. Grandparents also often talk about getting married with Anh Vien."
Meanwhile, Vo Thi Bay (80 years old), Anh Vien's grandmother said that she once advised her grandson to rest a few years ago after witnessing Anh Vien being so miserable, only being able to go home 1-2 times a year. , lonely, even cry by the pressure of achievement, medal.
"My niece has suffered a lot. Now I just hope it ends. I advised Vien to retire a few years ago, but he loves his job too much, so he tries until now. I didn't watch TV when Anh Vien took the exam because I was afraid of crying because I missed her," said Seven.
Nguyen Van Toi (83 years old), grandfather and the first swimming teacher for Anh Vien, often cleans the massive "wall of achievement" every time he misses his granddaughter.
In her competitive career, Anh Vien has won more than 150 medals in domestic and international arenas, a monumental achievement in the Vietnamese sports village. However, how to train and care for Anh Vien in training and competing for many years is still a very controversial topic.
Even the way of sending Anh Vien to long-term training in the US, leaving everything in the style of "one teacher and one student" for coach Dang Anh Tuan is considered a big mistake in the history of the Vietnamese sports industry. Until coach Dang Anh Tuan left the national team because of "insolvency", Anh Vien became disoriented, did not have enough coaches and had time to practice alone.
An official decision on Anh Vien will be made in the next few days
Currently, "fisherman" Anh Vien and his brother are still in Ho Chi Minh City due to the epidemic, so they cannot return to Can Tho. It is known that in the next few days, representatives of the Vietnam Aquatics Association, the Swimming Department under the General Department of Sports and Sports will work with the leaders of the General Department of Sports and Sports to discuss and work with the Military Sports Center and Anh Vien's family. for specific answers and solutions.
Source: https://tcdulichtphcm.vn/the-thao/ba-me-anh-vien-mong-con-gai-som-lay-chong-khong-bat-ngo-chuyen…Source: https://tcdulichtphcm.vn/the-thao/ba-me-anh-vien-mong-con-gai-som-lay-chong-khong-bat-ngo-chuyen-xin-nghi-c28a17273.html
According to Le Phong (Ho Chi Minh City Tourism Magazine)
.