Saturday, August 7, 2021 00:46 AM (GMT+7)
HHT – The mayor of a city in Japan made an athlete very awkward when he asked her to show her the gold medal she had just won at the Tokyo Olympics, then… bit hard to take a photo. This action is drawing a lot of criticism from the mayor, and he has to publicly apologize for biting other people's medals.
Olympic athletes often put medals in their mouths to take pictures – many people probably know the reason by now. And it's done so often that it's almost become an Olympic tradition.
It is normal for each person to bite their own medal, but it is not normal to bite someone else's medal. Therefore, Mr. Takashi Kawamura, the mayor of Nagoya (Japan), is being strongly criticized when he decides to bite a gold medal, which of course is not his.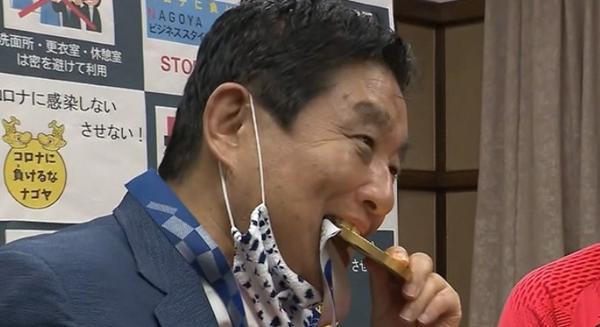 Mr. Kawamura bit the medal that wasn't his. Photo: Live Door News.
This incident happened when Miu Goto, a softball athlete who had just won gold at the Tokyo Olympics, attended the celebration in her hometown. Here, during the press conference, Mr. Kawamura asked the 20-year-old female athlete if he could see her medal.
Very politely, Goto agreed and took off his medal, putting it on Mr. Kawamura's neck. Mr. Kawamura tried to lift the medal, commenting: "It's heavy!", then suddenly pulled down the mask, brought the medal up to his mouth, and bit hard (so many people even heard the sound of teeth biting into the medal) to take a photo.
Netizens in Japan immediately reacted strongly, criticizing Mr. Kawamura for acting "out of control", especially during the pandemic. The irony is that Mr. Kawamura bit off Goto's medal right in front of the backdrop calling on everyone to comply with anti-epidemic regulations.
Netizens wrote comments such as:
"I'm afraid, Goto will have to wash the medal right away." "Who would bite other people's things like that?" "An athlete has to train really hard to win a medal, and no one wants someone else to bite it."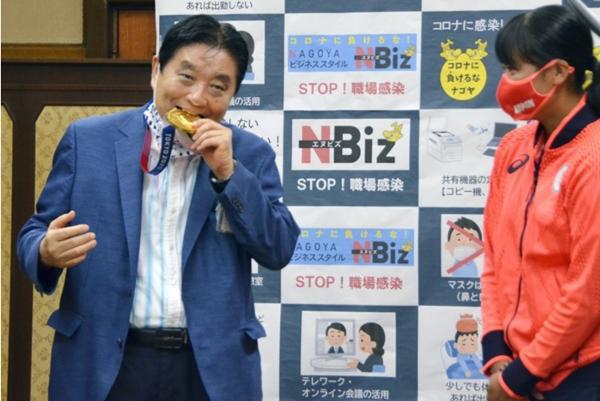 Right behind the mayor and athlete Goto is a backdrop about epidemic prevention. Photo: Kyodo.
Toyota, the auto company that owns the softball team of which Goto is a member, has also publicly criticized Mr. Kawamura's actions, saying he has no respect for the athlete. Before the public reaction, Mr. Kawamura had to apologize on television.
Source: https://hoahoctro.tienphong.vn/mot-thi-truong-nguoi-nhat-can-hcv-ma-vdv-gianh-duoc-o-olympic-tok…Source: https://hoahoctro.tienphong.vn/mot-thi-truong-nguoi-nhat-can-hcv-ma-vdv-gianh-duoc-o-olympic-tokyo-bi-chi-trich-nang-ne- post1363138.tpo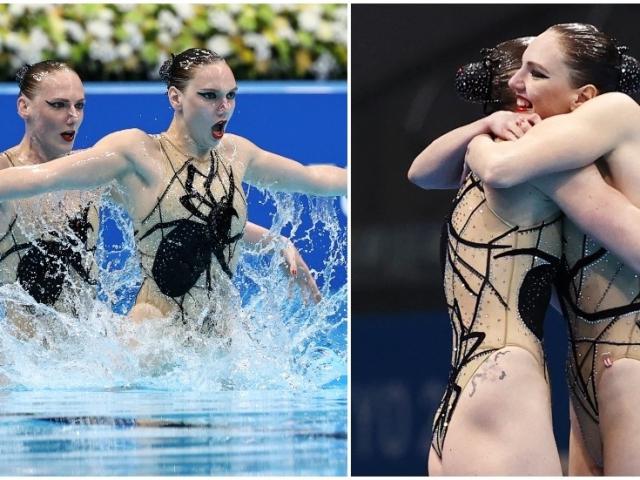 (Sports news, Tokyo Olympic news) The costumes of two female swimmers make it feel like they are wearing see-through suits that make…
.